Cornwall plane crash: Two pilots eject from Royal Navy jet
A Royal Navy Hawk T1 jet has crashed in woodland in Cornwall.
Two pilots ejected from the aircraft which is from the 736 Naval Air Squadron based at RNAS Culdrose, the Ministry of Defence (MoD) confirmed.
The pilots, who were airlifted to hospital, are in a stable condition "without significant injury", police said.
Defence Minister Johnny Mercer said the crash was due to "suspected engine failure".
"There's nothing more to it than that," he said. "They've had a problem, they've ejected, they've been picked up.
"We're assessing them and we'll have more information in due course."
Ejection seat manufacturer Martin-Baker said it was the first Royal Navy ejection in 18 years.
Police said they received reports of the two-seater training aircraft crashing in the St Martin area on the Lizard Peninsula.
Eyewitness David Hoskin, a farmer, said he heard an "unbelievable bang" and saw two people ejecting from the plane.
He found the two men "in fairly good spirits" and "chatting" in a field near the crash scene.
One had "cuts and bruises" on his face from landing in trees next to the field.
"The pilot was very concerned about the whereabouts of the jet," he said.
"He said they aimed to put it in the Helford River but we saw it heading away from the river."
By Johnny O'Shea, BBC South West
The plane crashed into a small woodland at the bottom of a field.
The police have allowed us to within about 50m of the debris but the only evidence of the crash from here is a hole in a hedge and the strong smell of fuel in the air.
Beyond the hedge they tell us the plane has broken up into lots of pieces.
The military will now be investigating what happened.
The fire service has dammed a river that runs through the woodland to reduce the risk of fuel getting into the water course.
Another eyewitness, Richard Cooper, said: "There's no plane in view, it's gone through a load of trees and down a valley into a wooded area. There's a handful of broken branches.
"There was a strong smell of fuel when I first arrived but that's gone now."
Tina Searle, who lives on a farm near St Martin, said: "I thought it was a bit low but I just thought they're doing a manoeuvre or something.
"Then a few minutes later I saw the emergency service vehicles screaming down.
"My heart skipped a few beats when I read the news. I just pray that the guys were OK."
Emma Davis, who was walking near Falmouth, said she saw the jet flying "low and slowly" over Helford village "then in the blink of an eye it was gone".
She said: "I heard a massive impact explosion, and was expecting to see fire, or smoke, but didn't.
"Then I saw the two pilots had ejected."
Eyewitness Layla Astley said: "I saw the plane flying low over our house. I heard a clunking sound. It flew on over our fields and then there was a loud crack and we saw two pilots ejecting.
"I watched as their parachutes opened.
"I then saw the plane bank left and over the top of a hill before hearing a very loud bang. There was no smoke or fire and I hear from locals that thankfully no-one was seriously hurt."
Based at RNAS Culdrose, near Helston on the Lizard Peninsula
Uses Hawk T1 two-seater training aircraft for simulating ship attacks
Also flies missions for students at the Royal Navy School of Fighter Control
The Hawk jets are marked with the distinctive lightning bolt of the squadron
RNAS Culdrose is also a base for Royal Navy Merlin helicopters, specialising in anti-submarine warfare
Devon and Cornwall Police tweeted: "Two men have been airlifted to #Derriford Hospital to be treated for their injuries. Details of injuries not known at this time."
Craig Hoyle, editor of Flight International Magazine and a former Hawk pilot, said the simulated attacks which 736 Squadron specialises in were "very exciting".
"You end up flying above the water at about 100ft at 400mph, so it's pretty exhilarating stuff," he said.
Accidents were "very rare" and the aircraft were "very well maintained", he said, but if the plane's single engine had failed as suspected, the crew would not have been able to return to RNAS Culdrose.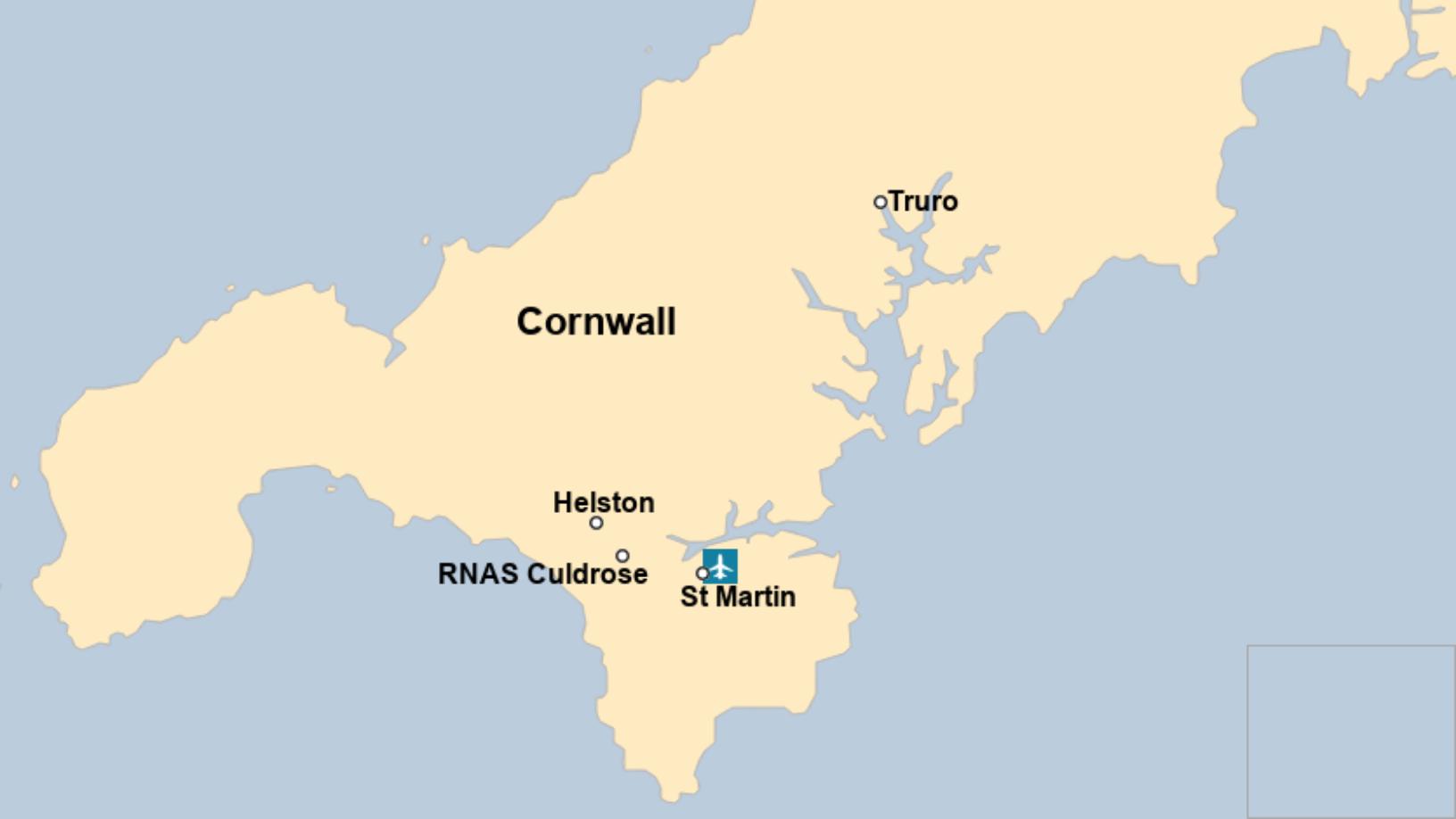 Were you in the area? Did you witness the incident? If it is safe to do so please share your experiences by emailing haveyoursay@bbc.co.uk.
Please include a contact number if you are willing to speak to a BBC journalist. You can also get in touch in the following ways:
If you are reading this page and can't see the form you will need to visit the mobile version of the BBC website to submit your question or comment or you can email us at HaveYourSay@bbc.co.uk. Please include your name, age and location with any submission.
Related Internet Links
The BBC is not responsible for the content of external sites.