Falmouth 'at risk' harbour algae is unique say scientists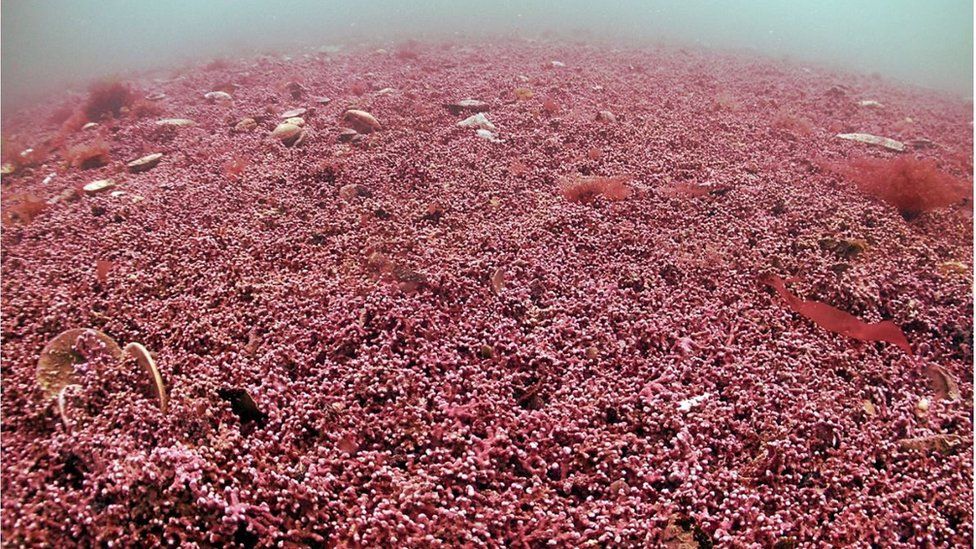 Red algae growing in Cornwall's Fal Estuary is genetically unique, new research shows.
Academics from the University of Exeter said the findings supported the need to protect the bed which was "very much at risk" from factors such as marine pollution.
They said the algae also acted as a nursery for commercial fish stocks.
Maerl is a red-coloured calcified seaweed that exists in only a few coastal areas.
Scientists looked at maerl beds, or P. calcareum, from Norway to Portugal and found that the Fal version was "genetically distinct" from others, including from the Manacles rocks just 8 miles (13km) away.
The paper, published in the journal Evolutionary Applications, said the Fal Estuary site "harbours unique genetic diversity" which had likely developed over a long period of time.
It said the findings "provide further evidence to support the current conservation management objectives of this SAC [Special Area of Conservation] to maintain the maerl bed in a favourable condition".
Dr Jamie Stevens said the Fal was heavily used by commercial and naval shipping and "consequently, the genetically unique Fal maerl bed is very much at risk from marine pollution and the threat of sedimentation from dredging".
He said the "genetic differences" of maerl beds "show that these need to be managed on a site-by-site basis, as separate and distinct populations".
Related Internet Links
The BBC is not responsible for the content of external sites.