Fistral Beach: More than 100 people gather and light fires in dunes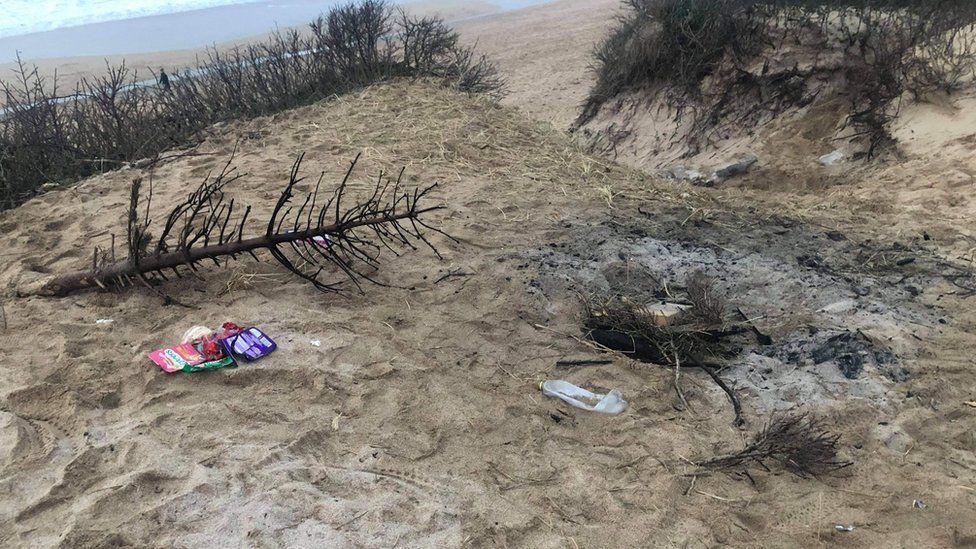 More than 100 people gathered and set fires in protected sand dunes in Cornwall, a fire service has said.
Multiple groups were found burning rubbish in the dunes at Fistral Beach, with a nearby skip also on fire due to discarded disposable barbecues.
Newquay Community Fire Station said it was called to the dunes on Monday and Tuesday nights.
It urged people to "respect the dunes" and "stop lighting fires".
Gemma Turner, from local conservation group Friends of Fistral Dunes, said it was "such a shame" people did not take their litter home with them and were setting fires in a protected conservation area.
"The next morning we're left with the ashes and the litter, as well as a potential fire hazard."
She explained there was also a problem with broken glass, which was hazardous for dog walkers and their pets, as well as other people who use the dunes.
"The issue is escalating, there's definitely a correlation between lockdown lifting, the nicer weather and groups coming together, ironically destroying the natural area they are there to enjoy," Ms Turner added.
A spokesperson from the fire service said many locals were "working hard" to keep the dunes clean and protect them.
They said: "Please respect the dunes and stop lighting fires and dumping your rubbish.
"Last year we lost large areas of dunes which were burnt after bonfires intentionally lit using litter and kicked down fencing got out of control."
They added the police were aware of the issue.
Devon and Cornwall Police said it attended the area at about 19:40 BST on Tuesday and found small groups of people "being quiet and behaving".
The force said officers returned later and separated one group, but no fines for lockdown breaches were issued.
Related Internet Links
The BBC is not responsible for the content of external sites.