Warning over South West Coast Path 'wear and tear'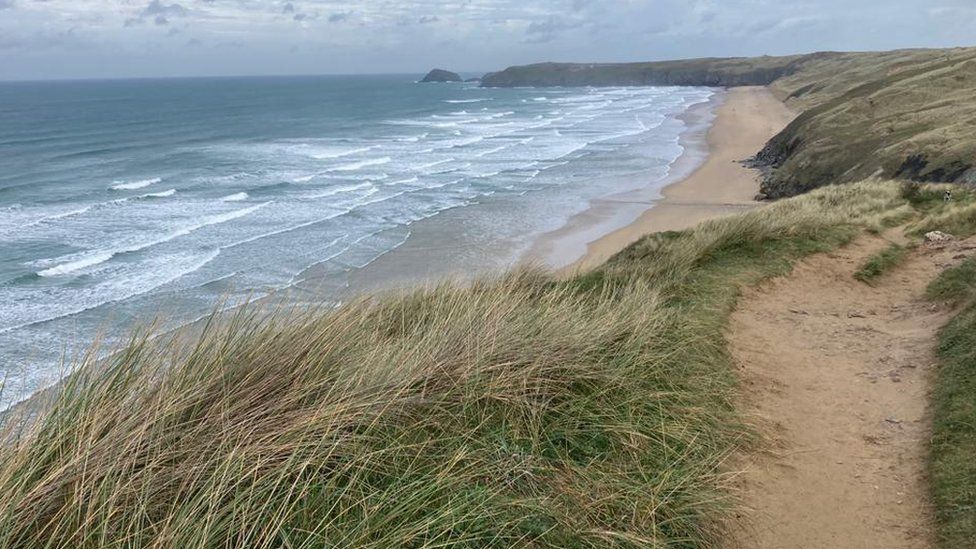 The South West Coast Path is expected to face more "wear and tear" than usual this year with increased footfall.
Parts of the path have widened due to winter weathering and more use by local residents, authorities have warned.
The South West Coast Path Association (SWCPA) said it expected a "very, very busy year ahead" as "everyone's new hobby is walking" in the pandemic.
Visitors to the scenic 630-mile (1013.8 km) trail have been urged to avoid busy "honey pot" sites.
Richard Walton, national trail officer, told the BBC the path had been "incredibly important for local residents for their daily exercise" in lockdown.
"Where they're trying to avoid mud and puddles, the path is kind of getting wider and eroding wider, so it's about trying to make sure that we're having as minimal physical impact as we can," he said.
Becky Millington, from the association, added: "Everyone's got a new hobby of walking, so we're finding so many more people, people who would not have normally done a walking holiday... all considering visiting the South West for that reason.
"So we're definitely expecting a very, very busy year ahead."
She added: "It's about trying to get people to think about going a bit broader so not just hitting those honey pot sites that we all know about."
Donald Martin, Cornwall Council's countryside team leader, said: "We have had a busy winter but we're in a good place and ready for the summer."
He said there were some closures on parts of the path with diversions in place where there had been cliff falls and urged people to "respect" those directions.
Related Internet Links
The BBC is not responsible for the content of external sites.