Isles of Scilly Covid evacuation scheme in regular use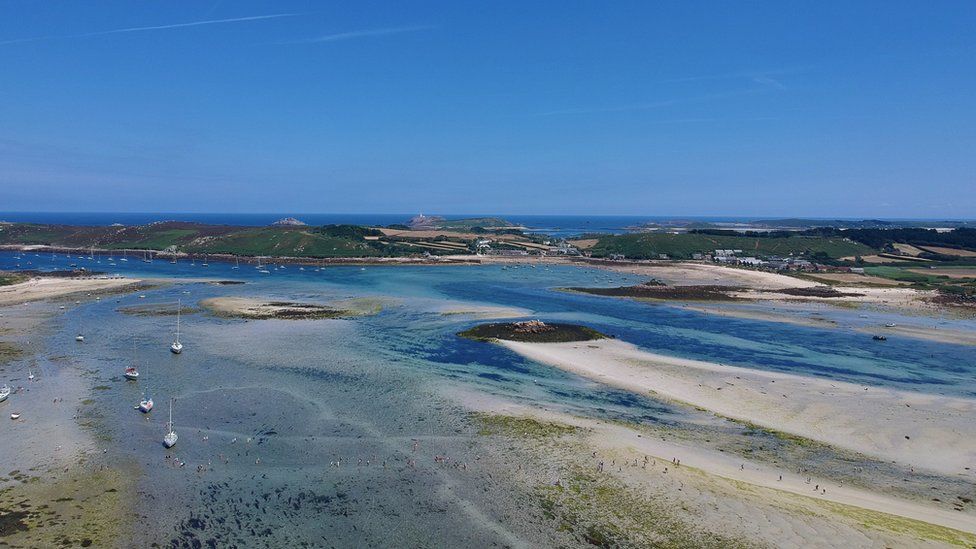 There have been seven evacuations from the Isles of Scilly because of coronavirus in the last two months.
Visitors who test positive or are contacted by the NHS to self-isolate but cannot remain on the islands, are not able to travel by public transport.
Special evacuation boat or air services can be deployed to get them from the islands, 28 miles off Cornwall.
The Isles of Scilly Council said the scheme was not used in 2020 but it has been used seven times in June and July.
Each use, which costs up to £2,000, has to be agreed by Cornwall Council's Public Health team.
Chief executive of Isles of Scilly Council Paul Masters said: "The evacuation scheme is in more regular use, and has worked incredibly well for getting people back to the mainland."
He added: "We set the scheme up a year ago with £80,000, it costs up to a couple of thousand pounds each time we use it, and we are using it more regularly now."
It is designed as a "last resort" for visitors who need to self-isolate but cannot remain in their accommodation and are unable to use regular boat, plane or helicopter services due to the infection risk.
Some of the seven evacuations have been for individuals, with others for members of the same household, the council said.
On Thursday, the head of Scilly's Local Incident Response Team told the Local Outbreak Engagement Board there were four positive cases in the islands, the same number as the previous week.
Advanced health practitioner Dr Whitney Curry said: "There have been four official cases since 16 July, but I know there are more than this, because of the pings that are going on."
Mr Masters said he believes the evacuation system should stay in place, but needs to be reviewed.
He said: "It has become incredibly resource heavy for council staff. We have been sorting out things like getting people's car keys back to them, moving cars from the park-and-ride down to the harbour, accommodation, food.
"We have been doing a lot of hand-holding. We are not taking it away but we need to get people... to do some of the work themselves before they come to the council."
If visitors develop any Covid-19 symptoms whilst visiting the Isles of Scilly, they must immediately self-isolate in their accommodation until they receive a negative PCR test result.
Related Internet Links
The BBC is not responsible for the content of external sites.