Holiday park guests in Newquay trash resort swimming pool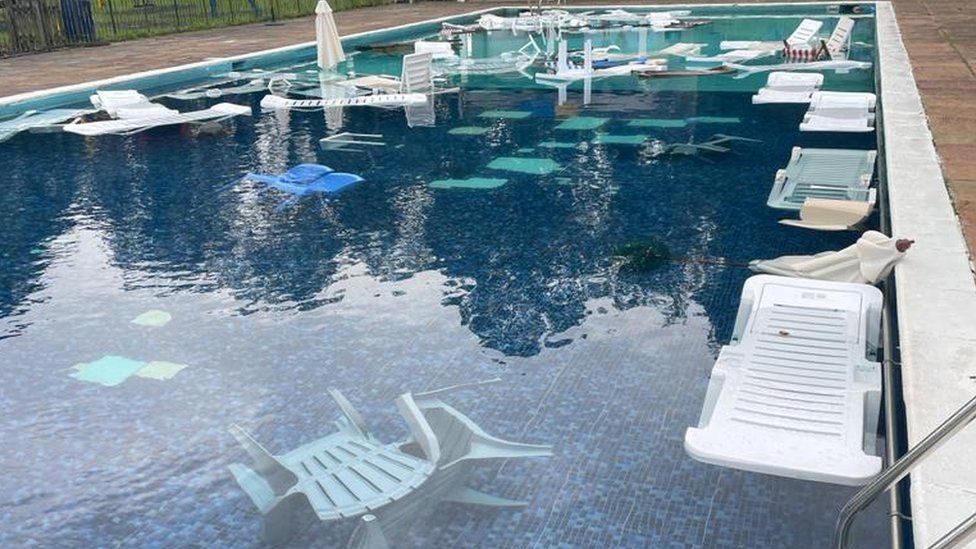 A resort had its pool "completely trashed" when new furniture was thrown in by guests.
The Atlantic Reach in Newquay, Cornwall, discovered the vandalism on Sunday, which forced them to close the pool to be cleaned and checked for safety.
The resort said wooden furniture worth around £2,000 was irreparably damaged.
"The additional stress of Sunday's events is something we could have done without during this pandemic," it said.
Atlantic Reach, which provides holiday homes and also functions as a leisure centre for locals, said the matter had been reported to Devon and Cornwall Police.
Manager Charlotte Masters said they were "utterly shocked" by the damage caused by the "sheer stupidity" of customers.
She said replacing the furniture was a "major inconvenience".
Ms Masters said: "One of the hardest things we faced this year in the build-up to the season was actually sourcing furniture."
She believes disruption to orders was caused by the pandemic and Brexit.
She said there was now less furniture for other guests to use.
"Having weathered Covid we could do without having that cost," she said.
"We just don't have the time."
'Customers really fantastic'
Ms Masters said she knew who had caused the damage after two residents came forward.
She said she was waiting to hear back from police regarding what action was to be taken.
The resort's Facebook post received hundreds of comments from local people and visitors expressing frustration at the damage.
Ms Masters said: "The support from the local community and a lot of customers and tourists who come down regularly is really lovely.
"We know this isn't normal - it hasn't happened before and the majority of our customers really are fantastic.
"But we'll fix it and we'll move forwards."
Devon and Cornwall Police have been contacted for comment.
Related Internet Links
The BBC is not responsible for the content of external sites.