Newquay has highest Covid rates in England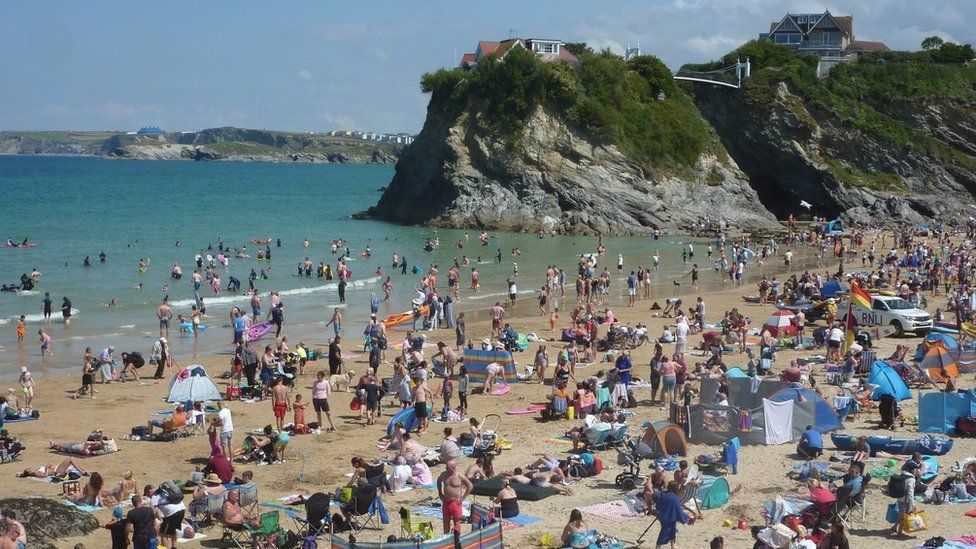 Two of the three neighbourhoods with the highest Covid rates in England are in the same Cornish town.
Newquay East has the highest rate at 1123.8 per 100,000 people in the week up to 13 August, with Newquay West in third position with 972.6.
The place between them is Yarborough, close to Grimsby and the popular seaside town of Cleethorpes in Lincolnshire.
The data from the government breaks down data into 6,800 areas in England.
Last weekend about 50,000 people attended the Boardmasters music festival near Newquay, but the latest figures do not cover this period.
Cornwall Council said virus cases remained high in Newquay "largely due to the high number of hospitality venues such as bars, pubs, clubs and restaurants, where people are now allowed to mix".
The council, along with Newquay Town Council has been giving out lateral flow tests "to help them fight back against Covid-19".
Many hospitality and retail businesses have been affected with staff shortages caused by positive tests, or by being told to isolate by the NHS app.
Analysis by Rob England, BBC England Data Unit
Zooming down to these smaller areas within England's local authorities, it's clear the level of infection is highest in many popular seaside towns, likely seeing increased visitor numbers over the summer.
It's difficult to measure how much of a direct impact tourists have on coronavirus cases, as positive tests are registered to a person's home address. But what we may be seeing in these areas is the knock-on effect on local residents.
Since the peak of the third wave, hospitality venues have been at the centre of some of the more significant spikes in cases - as seen in Lincoln a few weeks ago. It's unsurprising then that local officials are suggesting this may be behind the rise in Newquay.
What may be encouraging though is the outbreak seems to be fairly contained, and a relatively small rise in cases is being recorded across Cornwall as a whole - though still higher than average for England.
Jess Parkin, who owns Johnny's Tobacconist on Bank Street, a busy shopping street in Newquay, said he was grateful to his "brilliant staff for doing everything that can to get us through a very difficult period".
He said: "We were nearly forced to close over the busiest weekend of the year because three of four staff were off, having tested positive or awaiting PCR results.
"Fortunately a member of staff came back negative at 16:00 BST on Friday when I was all set to close at 17:00 and not open until Monday just to give us a rest. We were very lucky".
He added: "Every single business has had people off, had to struggle and shuffle staff around, to close, or close for a day a week. Everyone has been affected in one way or another.
"The town was 20% busier than normal anyway and then you add Boardmasters; it's a lot, a lot of people."