'No basis to cancel holiday events' in Covid spike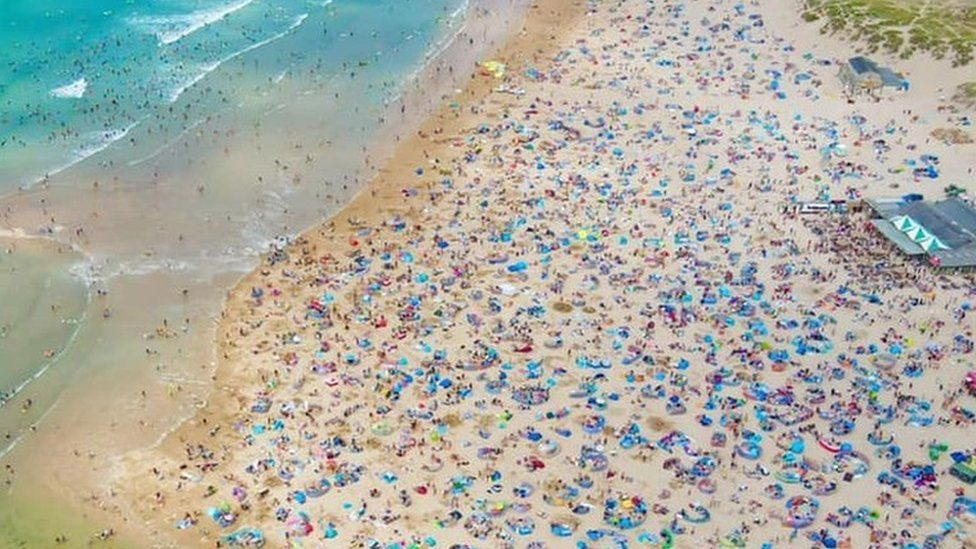 Visitors to Devon and Cornwall are being warned to plan ahead and take precautions amid a Covid-19 spike.
The two counties have the highest rates of the virus in England and a number of large gatherings are planned.
Nearly 5,000 cases were linked to Boardmasters festival in Newquay earlier in August.
Public Health England said it would not call for bank holiday events to be cancelled.
Prof Mike Wade, from Public Health England South West, said there was "no basis to cancel" events "provided that authorities were engaging effectively with the event organisers".
He said attendees should also be encouraged to take precautions against catching or transmitting Covid.
Prof Wade said the benefits of such events needed to be considered "when you think about the fact that our younger people have had such a difficult 18 months both in terms of how they've had to manage their education and not socialize".
He added that day trippers and holidaymakers should take a lateral flow test before travelling and stay at home if they tested positive.
Cornwall and the Isles of Scilly have the highest Covid rate in England with 828 cases per 100,000 people in the seven days to 22 August.
Seven council areas in Devon are also in the top 10 local authorities with the highest rates.
A spokeswoman for Royal Cornwall Hospitals NHS Trust said there were currently 32 patients in hospital with the virus, seven of whom were in intensive care.
John Garman, a member of the governing body for NHS Kernow, called on relatives and friends to try and offer space at home for those who were medically fit for discharge.
"It's really, really busy - I've been a GP for 18 years and I don't recall a time like this, especially at this time of year," he told the BBC.
The bank holiday weekend is expected to attract further crowds to popular resorts and to festivals like The Great Estate music festival, near Redruth.
On Friday, the family-friendly festival will take place in the grounds of the stately home of Scorrier House, with hundreds of families camping on site.
Next week, 5,000 people are expected to gather on Perranporth beach for the annual three-day Tunes in the Dunes music event.
Some local people called for it to be cancelled while some ticket-holders questioned organisers on Facebook about their Covid precautions, claiming there had been a lack of information.
Angie Iles said: "I just wanted a little reassurance from them about taking all precautions... they haven't replied, and don't seem to answer anybody's comments when they ask.
"I do still plan to go and will be looking out for myself while there."
Jonty Brook, production manager for the festival, told they BBC they were "doing everything they can" in "challenging" circumstances and full details were due to be published on their website on Friday.
He said the festival would be using digital tools including the NHS Covid Pass to "make sure people don't cheat the system".
"The events industry is in turmoil as it is," he added.
"If this was cancelled this year it would cause a lot of distress to everyone who works there, at least 200 will be involved."
Cornwall Pride, which started its three-day event on Friday, is taking place at Killacourt in Newquay and will include a parade through the town on Saturday.
Chairman Matthew Kenworthy-Gomes said: "The mental wellbeing of the LGBTQ+ community is even more challenged than other people's mental health because of the challenges we face as a community group, so this is so important for us to come together."
However, he added keeping people safe was a key priority.
Cornwall Council said the upcoming events were smaller than Boardmasters and therefore "presented a significantly lower risk of transmission".
A spokeswoman for the local authority said: "In addition, attendees come from a different demographic and are more likely to have had their second vaccines.
"Upcoming events have mitigations in place for staff and attendees to reduce the spread of the virus."
A pop-up vaccine clinic would also be held during the Pride event in Newquay, the council said.
A spokesperson for the Department of Health and Social Care said it was "monitoring the situation in parts of the South West" and would "provide support if the data and local teams' insights demonstrate a need for this".
Related Internet Links
The BBC is not responsible for the content of external sites.