Pair jailed for man's murder in arranged fight on Kit Hill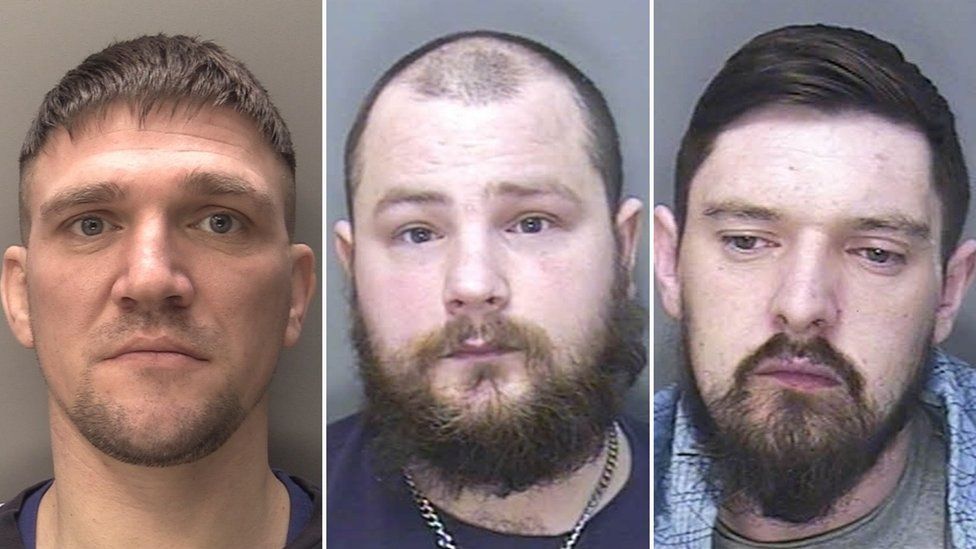 Two men who murdered a 22-year-old in an arranged fight with weapons have been jailed for life.
Callum Hill, from Plymouth, died after a "brutal" attack on Kit Hill, a remote part of Cornwall, in March 2020, Plymouth Crown Court heard.
Andrew Hatrey, 38, and Kristian Humphries, 31, had denied murder but were found guilty by a jury on Tuesday.
Judge Simon Carr said Hatrey would serve a minimum of 26 years and Humphries would serve at least 15.
A third man, Alexander "Billy" Humphries, 27, of Callington - no relation to Kristian Humphries - was jailed for 11 years after being convicted of causing grievous bodily harm with intent.
Father-of one Mr Hill died in hospital from head wounds and other injuries two days after being overpowered and beaten severely in the fight on 26 March, the court heard.
Prosecutors said the men arrived in two cars and brought an assortment of weapons with them in a pre-arranged fight.
They said the "short and brutal confrontation" left Mr Hill fatally injured and the attack on him continued while he lay unconscious on the ground.
Judge Simon Carr said Hatrey, of Callington, and Kristian Humphries, of Gunnislake, intended to cause Mr Hill serious harm rather than killing him.
All three men were also convicted of conspiracy to commit violent disorder.
The court heard Billy Humphries drove at the two killers using his car as a weapon, seriously injuring Hatrey.
Judge Carr said Hatrey felt disrespected by Billy Humphries and would not back down in what the judge called a "petty misplaced sense of grievance".
Callum's mother, Julie Cox, said after sentencing the family had been "devastated at the loss of our darling Callum" at the hands of "the most violent, cruel and horrible people".
She said: "A mother should never have to bury her child, and Callum's loss will be felt by the whole family for the rest of our lives.
"Callum was vulnerable, disabled and had no idea what was planned at Kit Hill on that fateful night."
Det Insp Rob Back, of Devon and Cornwall Police, said he welcomed the outcome of the investigation into a "brutal attack".
He said the "vulnerable 22 year-old-man" was caught in an "escalating feud between Callum's friend [Billy Humphries] and Andrew Hatrey".
He said: "Callum's vulnerability was there for all to see ... That vulnerability and his willingness to please his friend Billy ultimately cost him his life.
"I hope this result provides some measure of comfort for his family who have conducted themselves throughout the trial with dignity and restraint.
"This investigation has been a complex and difficult enquiry to piece together, with continuous lies from all of the defendants from the outset."
Another man, Daniel Humphries, 25, brother of Billy Humphries, was cleared of conspiring to commit violent disorder.
Related Internet Links
The BBC is not responsible for the content of external sites.