Pet cat killed by pack of hunting hounds in Madron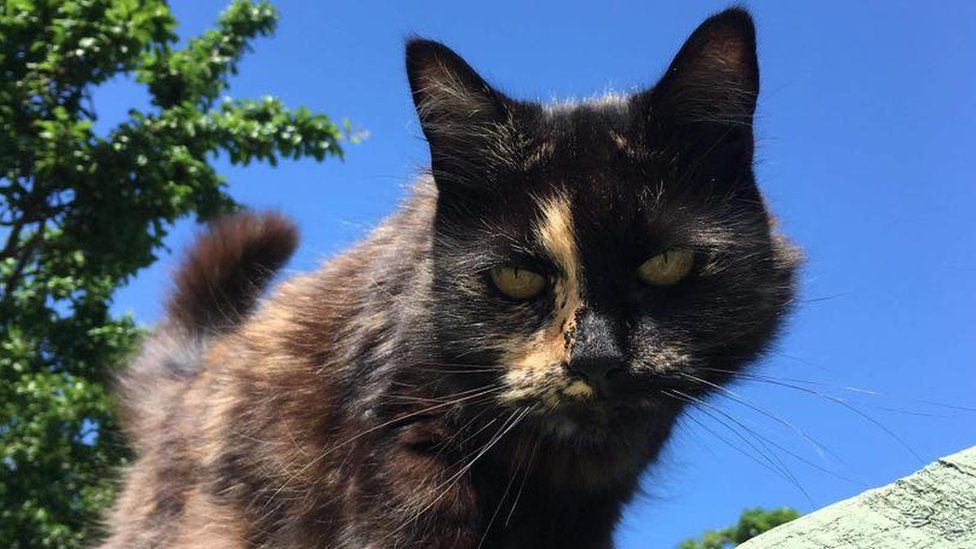 A hunt master has been found guilty of allowing a pack of hounds to kill a pet cat while she rested outside her house.
John Sampson was ordered to pay £1600 for being in charge of dogs that were dangerously out of control.
Mini the cat was mauled outside her home in Madron, Cornwall in March.
Outside Truro Magistrates Court, her owner Carly Jose said: "The complete disregard for people's animals, any animals, is just vile, utterly disturbing".
Sampson was in charge of the Western Hunt that was exercising dogs near the village, which is near Penzance.
Video showing a member of the hunt throwing the dead cat over a fence emerged online in the following days.
The court heard how Mini's injuries included a broken back and broken ribs, but the vet said in a statement that it was likely Mini's suffering would have been "relatively short".
Ms Jose said: "You want an animal to die with dignity, like a person will want to die with dignity. Mini didn't die with dignity.
"She was scared and thrown after she was killed."
Sampson, 55, from St Buryan was fined £480 and ordered to pay £350 compensation to Ms Jose, £775 court costs and a £48 victim surcharge.
Following the incident, Ms Jose set up a petition for "Mini's law", to make it illegal for hunts to go near residential or public areas.
More than 100,000 signed it meaning the matter will be debated in Parliament.
Speaking after the hearing concluded, Ms Jose added: "I'm really pleased, it sets a precedent going forward that hunts aren't allowed in residential areas and maul people's pets and get away with it."
Martin Sims, director of investigations at the League Against Cruel Sports, said: "This sickening incident illustrates the havoc fox hunts are having on local communities and domestic animals and wildlife across the UK."
A spokesperson for the Western Hunt said they were "disappointed" with the verdict and considering an appeal.
"We apologise unreservedly for the distress this has caused, however, incidents of this nature involving hounds are incredibly rare due to the professionalism with which the hounds are managed. As a hunt we have taken this matter very seriously and reviewed our procedures to prevent any reoccurrence", they said.
Related Internet Links
The BBC is not responsible for the content of external sites.