Cornish comedian Jethro dies aged 73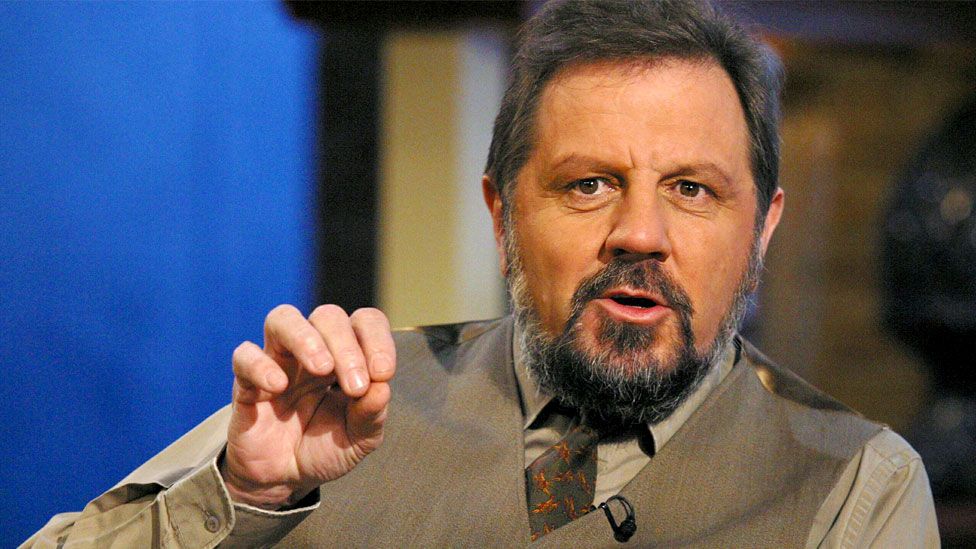 Cornish comedian Jethro has died at the age of 73 after contracting Covid-19, his family has said.
Jethro, real name Geoffrey Rowe, stopped touring in 2020 after more than 50 years on the road.
His manager, John Miles, said: "He just loved to make people laugh ... and he did make millions of people laugh."
Born in St Buryan, Cornwall, Jethro's popularity as a comedian grew during the 1980s and he made his first national appearance on the Des O'Connor show in 1990.
He later said that performance gave him a national profile and it led to other TV appearances and stage shows across the UK.
In 2001, he appeared on the Royal Variety Show and went on to become one of the biggest stars from Cornwall.
Dawn French, who has made Cornwall her home, tweeted: "This gloriously un-pc Cornishman, Jethro, (Geoffrey Rowe) has left us.
"Some of my most helpless with laughter moments were in his presence. A supremely gifted comedian. Thoughts with all he loved. Geddon bey."
Comedian Jim Davidson, who Jethro appeared with on shows including The Generation Game, paid tribute on Twitter, saying: "My good friend Jethro has left us. RIP Jethro, you will be greatly missed."
Former heavyweight boxing world champion Frank Bruno, who tweeted that he had "spent a bit of time with him a couple of weeks ago in Plymouth", said he was a "very funny man, had his own unique style of comedy [and was] great fun to be with".
Tributes have also come outside the world of showbusiness, with rail operator GWR tweeting a picture of a sign at Camborne train station with his name on it, remembering the punchline to one of his most famous routines: "This train don't stop Camborne Wednesdays."
It said: "May you rest peacefully in the knowledge that the train does indeed now stop at Camborne on Wednesdays."
Mr Miles, who told BBC Radio Cornwall he knew the comedian for 40 years, described him as "the funniest guy, and a lovely, lovely guy".
He said: "It didn't matter what age, or where anybody came from, whether he was royalty or he was just a normal guy like me - he appealed to everybody."
Mr Miles added: "He just loved to make people laugh - what a wonderful thing, and he did make millions of people laugh."
Speaking to the BBC in 2020, Jethro said "making people laugh is like a drug to me".
He said: "I love seeing old women laugh, because they don't get out much... they are wonderful."
He said the first appearance on the Des O'Connor Show "put me national".
"When I was actually doing it I was just playing to the theatre audience so what was going on outside in the country I knew nothing about until about three days later.
Jethro also explained his decision to retire was partly down to difficulties remembering his jokes.
"My memory is not too good, and sometimes I get in a theatre full of people and they are all laughing, and they are going to stop in a minute, and there's nothing in my head - that isn't much of a place to be," he said.
Jethro had promised to honour his upcoming tour dates during 2020 but they were later postponed due to the onset of the coronavirus pandemic.