Swimmers smash Cornwall to Scilly relay time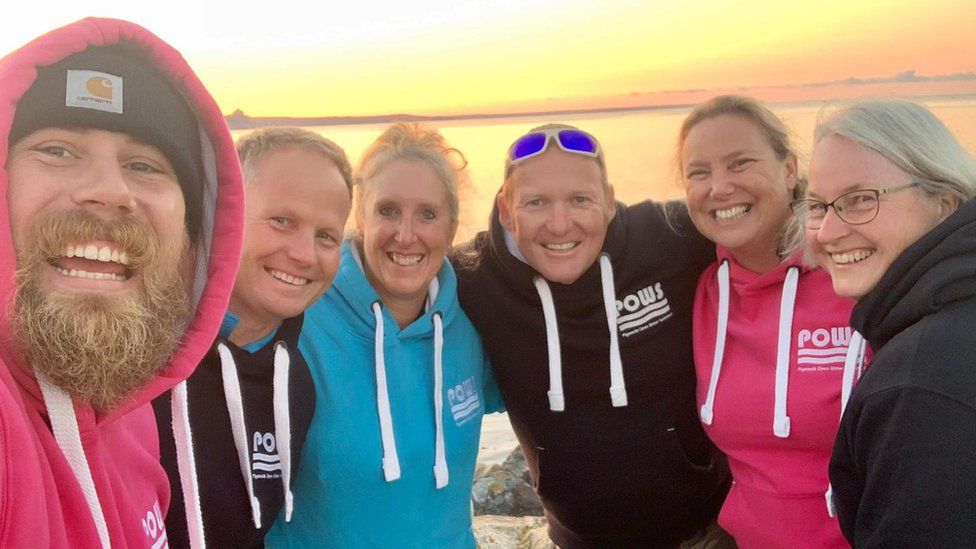 A team of swimmers believe they have broken the world record time for completing a relay from Cornwall to the Isles of Scilly.
The six swimmers took 13 hours 17 minutes to complete the 30-mile (48km) route between Mill Bay and St Mary's.
Jacob Roberts from Plymouth swam the final leg on Monday night.
He said: "We are ecstatic and so proud to have broken the world record for a relay swim from Cornwall to the Scilly Isles.
"We smashed it by four hours 42 minutes and one second! I got to finish the last leg of the swim to touch the Scilly Isles and swim with dolphins in the dark!"
Mr Roberts, 28, took part to raise money for charity Macmillan Cancer Support, after his mother was diagnosed with incurable lymphoma cancer.
The rest of the team was made up of Denise Ward, Lindsay Walke, Neil Brinksworth, Amanda Holland, Mike Goodman from the Plymouth Open Water Swimmers Group.
A representative from the British Long-Distance Swimming Association was in the support boat to ensure all channel swimming rules were followed.
It is expected to take several weeks to be ratified as a Guinness World Record.
There are strict rules in open water swim attempts including what the swimmers wear, and they are not allowed to touch the pilot boat or each other during change overs.
Mr Roberts hopes to raise £15,000 for the charity from a series of open water swim challenges over the next two years.
These include a swim across the mouth of the Plymouth Sound, Eddystone Lighthouse to Plymouth and culminating in a solo swim from Northern Ireland to Scotland in 2024.
Related Internet Links
The BBC is not responsible for the content of external sites.