Spaceport Cornwall focus on growth after Virgin Orbit blow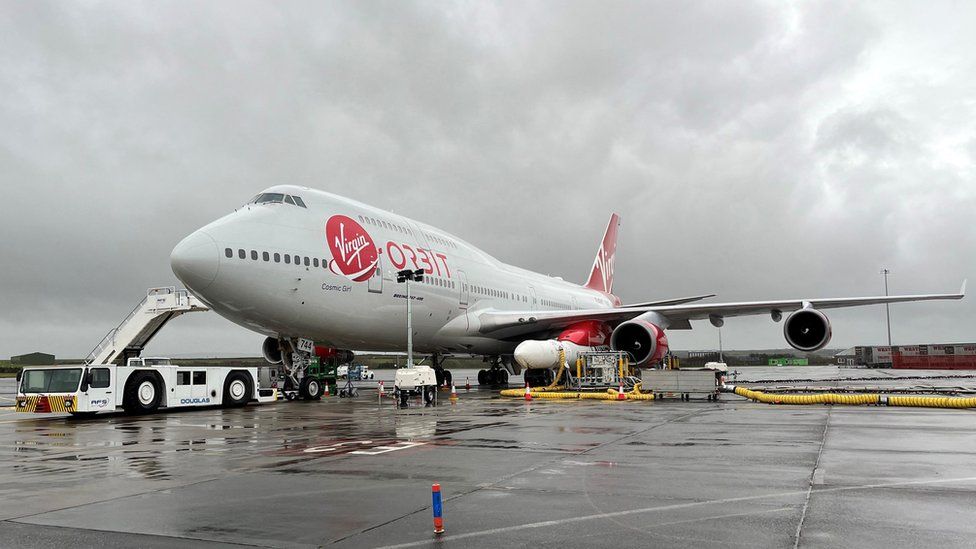 Cornwall Council, which owns the Spaceport, said its "focus" was to "continue to grow".
Virgin Orbit had said after the failed launch that it anticipated returning to Spaceport Cornwall.
Dan Hart, chief executive at Virgin Orbit, told staff the firm needed time to finalise a new investment plan, a source who attended a staff meeting told Reuters news agency.
Almost all employees at the satellite launch company will reportedly also be furloughed.
Louis Gardner, portfolio holder for the economy at Cornwall Council, said in a statement: "It is clearly a difficult time for the Virgin Orbit team as they navigate the next stage of their company, and we will await further information from them as events unfold.
"Our focus at Spaceport Cornwall is to continue to grow the space cluster in Cornwall, alongside progressing relationships with spaceflight operators.
"We remain the only licensed Spaceport in the UK and our plan is to build on that position."
Steve Double, Conservative MP for St Austell and Newquay, told BBC Radio Cornwall: "It's clearly disappointing but Spaceport Cornwall was never just about Virgin Orbit.
"I don't think it's the end of the story and Spaceport Cornwall was never really about one operator.
"It was always about having a facility that other operators could use."
He said that work had been going on "for many many months behind the scenes with other potential operators in the future".
He said: "The facility we have created in Cornwall is world-leading for satellite launch, that is still there and still available for anyone in the future who wants to launch satellites from a horizontal take-off."
In January's launch, a jumbo jet operated by Virgin Orbit carried a rocket out of Newquay to release it high over the Atlantic Ocean.
The rocket ignited and appeared to be ascending correctly, but later suffered an "anomaly".
The satellites it was carrying could not be released and were lost. Cosmic Girl, the carrier 747 jet, returned safely to base.
Virgin Orbit later said the mission had failed because a rocket fuel filter had become dislodged, causing one of the engines to overheat.
A statement released by the company on Thursday said the investigation into the failure was "nearly complete" and that "our next production rocket with the needed modification incorporated is in final stages of integration and test".
Related Internet Links
The BBC is not responsible for the content of external sites.