Coventry MPs fail to reverse school build cancellation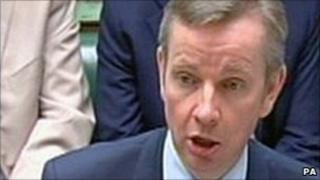 Coventry MPs and councillors have failed in their attempt to reverse the government's decision to cancel numerous school rebuilding projects.
The city's three MPs and a cross-party delegation from the council met education secretary Michael Gove on Thursday to try to change his mind.
Earlier this month, Mr Gove confirmed hundreds of projects were being cancelled to save "billions" of pounds.
in Coventry only one of 22 projects totalling £355m will now go ahead.
The new £27m Sidney Stringer Academy, in Hillfields, is to be built as planned.
'Work tremendously hard'
A spokesman for Coventry City Council said they were "bitterly disappointed".
However, the government will look sympathetically on the city in any future school building programme, the council said.
Mr Gove also agreed members of his capital review team would look at schools in the city as part of a report on how new school buildings will be funded in the future.
The council said it had spent £4.5m on the Building Schools for the Future (BSF) process.
Councillor Lynnette Kelly, cabinet member for education, said: "Teachers and staff at all of our schools work tremendously hard to achieve great results with our young people and I know that will not change but we wanted to allow them to do that in the learning environments they deserve."