Emaciated dog abandoned close to road near Gaydon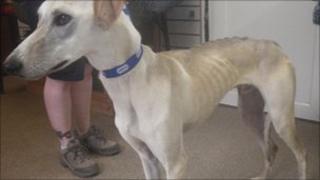 An emaciated greyhound crossbreed is being cared for by the RSPCA after being abandoned near a country road in Warwickshire.
The dog, who has been named Teddy, was tied to a tree with an extendable lead which he chewed through. He was found sitting on the B4100, near Gaydon.
A motorist took him home on Sunday before calling the RSPCA.
The young dog, who has a skin condition, is being treated at the animal charity's Coventry animal home.
'Callously abandoned'
Teddy is extremely underweight, the RSPCA said.
Vets who checked him commented on his long nails, which suggest he has been kept in a domestic environment.
Animal welfare officer Ben Jones said: "I am dismayed that someone thought so little of their pet that they callously abandoned him in such an appalling way.
"Not only has this young dog been underfed for some time, but he has been discarded on a quiet country road without a thought for his welfare.
"We must find out who was responsible for this offence."
Anyone with information about Teddy has been asked to contact the charity.