Three fire stations will close in Warwickshire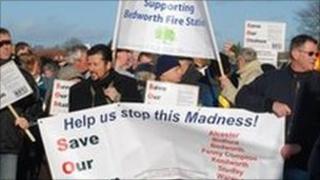 Three fire stations in Warwickshire are to close, it has been confirmed.
The county council approved plans to close Brinklow, Studley and Warwick fire stations.
County councillors approved the plans by a majority of 12. Two people abstained from the vote.
The council has said the changes were not designed to cut costs but to improve services. However, the Fire Brigades Union said the result was "not good" for the fire service.
A total of 34 councillors voted in favour of the decision , 22 against it and two abstained.
Councillors discussed three options, each of which would see at least two stations across the county forced to close.
Warwick, Bidford, Brinklow, Kenilworth, Studley, Fenny Compton and Bedworth stations were under threat of closure under the proposals.
June Tandy, Labour group leader, said opposition plans to save all stations were completely rejected.
Protest marches
And Andy Darke, the assistant general secretary of the FBU, said: "Clearly we're not pleased with the result.
"It's not good for the fire and rescue service in Warwickshire and it doesn't bode well for the future."
Protest marches against the closures have been held across the county and petitions handed in to the council.
The service said it had to respond to changing demands, such as dealing with more flooding and traffic accidents.
Fewer retained firefighters and the re-allocation of resources were the main changes proposed for the service.
The council has said the changes were necessary because about 40% of the county's retained fire engines were out of use as there were too few crews to man them.
However, the FBU has raised concerns, including over the safety of having fewer stations.
The council said about 3,000 people were consulted over the proposals.