Fillongley man-made beach owner may face court action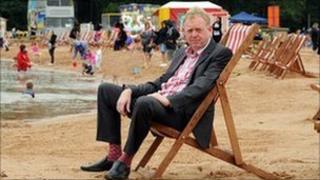 Court action could be taken to remove a man-made beach built at a conference centre in Warwickshire.
The attraction is part of Heart Park at Fillongley - which has been at the centre of a long-running dispute with council planners.
Owner Stephen Hammon, 45, has already been fined £4,000 for failing to remove a wedding marquee at the site.
He says up to 60 jobs rely on the venue's development.
Mr Hammon said: "We employ around 60 staff but if the council gets its way then I will be forced to lay off the majority of these people who all live locally and have given me excellent service."
He bought the site in 2002 and was given planning permission to create a lake at the farmland location.
However, alongside the water he also laid out a beach and turned the farm into a conference centre.
He also used woodland as a venue to hire out for team-building sessions.
But Mr Hammon had not applied for planning permission for these additional developments and the council refused his retrospective requests.
Now, Mr Hammon could face more court action after refusing to comply with planning regulations.
He has already made several appeals against the planning refusals - and his request to allow the wedding marquee was also the subject of a public inquiry.
'Good day out'
North Warwickshire Borough Council said it had a duty to protect the greenbelt.
Mark Simpson, chairman of the council's planning board, said: "We do recognise that this site can provide a good day out for families.
"However, we also have a duty to conserve the countryside, protect the green belt, reduce traffic hazards and noise nuisance.
"If they continue in this way, we will have to consider further court action again in the future."