Three injured in crash with bus in Coventry.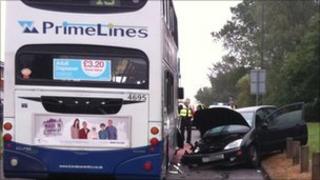 A woman and two children were injured when their car was involved in a collision with a bus.
Emergency services were called to Langbank Avenue in Coventry during the morning where they said the car and bus had been in a "significant collision".
The woman driver, in her 30s, suffered neck injures while a boy, thought to be about seven-years-old, in the back of the car suffered a head injury.
A girl, about five-years-old, was shaken by the incident.
She had also been in the back of the car and went to hospital as a precaution.
Ambulance staff said a male front seat passenger was uninjured. No one travelling on the bus was injured.