Second justice in Warwickshire centre set to open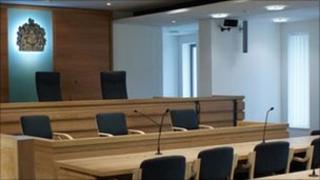 A new £26m "one-stop" justice centre is set to open in Warwickshire.
The centre, on the site of the old magistrates' courts in Leamington Spa, combines a police station, the town's courts and criminal justice agencies.
It has taken two years to build with the aim of carrying out justice more effectively and efficiently.
The UK's first Criminal Justice Centre (CJC) was opened in 2005 in Nuneaton. It is open to the public on 7 August ahead of a phased opening.
Interview suite
John Birbeck, former chief constable of Warwickshire Police who is leading the project, said it will transform the way justice is administered.
"Because everyone is here, we can make lots of savings - transport, travel and a number of other things - so that everybody gets much better value for money," he said.
The building will also contain dozens of cells for prisoners and defendants as well as an interview suite for young and vulnerable witnesses.
Police, Probation, Her Majesty's Court Service, Youth Justice Service and Crown Prosecution Service will gradually move into the centre, a spokesman said.