Tribute to woman found dead in Rugby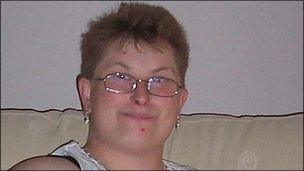 The family of a woman whose body was found on a disused railway line in Warwickshire say she was a "character" and a "very loving person".
The body of Gemma Hayter, 27, was found by a place known as the old station in Rugby on 9 August. Police said she had suffered serious head injuries.
Her family said she would be "very sadly missed" by a lot of people.
Two men aged 19, a 17-year-old boy and two women, aged 18 and 21, have been charged with murder.
Daniel Newstead, 19, Chantelle Booth, 21, Jessica Lyna, 18 - all from Little Pennington Street, Rugby - and Duncan Edwards, 19, of Ashwood Court Rounds Garden in the town, appeared before magistrates on Friday.
The 17-year-old boy cannot be named because of his age.
All five are in custody. A bail hearing was due to take place at Warwick Crown Court on Tuesday.
In a statement released on behalf of the family, Gemma Hayter's mother - who has not been named - said: "She craved friendship and acceptance from her peers..
"Someone once called her an enigma - well she certainly was that - but she was very loved and will be very sadly missed by a lot of people as well as her family.
"Since Gemma died I have remembered lots of instances, usually those that have made me and others laugh.
"Other people, and there have been a lot of them, who have known Gemma all or most of her life, have helped so much.
"We have laughed and cried together, remembering things good and bad."
Related Internet Links
The BBC is not responsible for the content of external sites.