Siren question for Coventry Blitz commemorations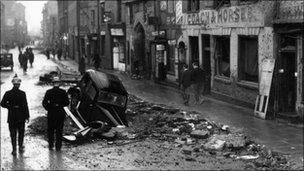 Organisers of commemorations to mark the 70th anniversary of the Coventry Blitz are debating whether to sound an air raid siren to mark the bombings.
The Luftwaffe dropped thousands of tons of bombs on the city on 14th November 1940, killing hundreds of residents and destroying most of the city centre.
Residents are being asked by the city council if they want a siren sounded during a weekend of commemorations.
Some say it will act as a poignant reminder, but others disagree.
The siren, with its two-tone wail, would be activated during a civic service in the cathedral ruins on Sunday, 14 November.
John Huthwait, 81, from Coventry, was only 11 when the city was devastated during the 12-hour blitz.
He said sounding a siren would give an idea of what people lived through.
"I think it is no problem, it will bring back memories. I mean we have got to remember these historical things," he said.
However, other residents who lived through the Blitz have said the eerie sound was too painful a reminder.
Three-quarters of the city centre were devastated, including the ancient cathedral, hospitals, schools and the tram system.
The council is expected to make a decision about sounding the siren at a meeting next month after hearing feedback from residents.
Related Internet Links
The BBC is not responsible for the content of external sites.