Unseen John Lennon picture shown at Leamington gallery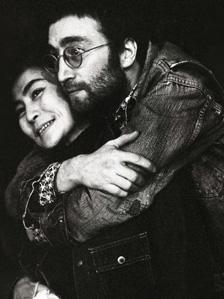 A Warwickshire exhibition includes an image of Yoko Ono and John Lennon which has not been seen in public before, a photographer says.
The image, showing Lennon cuddling his new wife at a Top of the Pops rehearsal in 1970, was unveiled at Gallery 150 in Leamington Spa.
It is part an exhibition by Bill Zygmant, who was a Fleet Street photographer in the 1960s, 70s and 80s.
The exhibition will run until 10 September.
Mr Zygmant, who is famous for taking images of The Beatles, said it was evident from photographing the couple that they had been devoted to each other.
"I was the only photographer at the Top of the Pops studios and I was very lucky to get the shot," he said.
"It was all quite rushed and I did not realise at the time how special it would be."
The photo was taken on 11 February, 1970, when Lennon was recording Instant Karma! (We all shine on) for transmission the next day.
Mr Zygmant, of Rugby, said other pictures from the photography session had been published, but this one was among many exclusive photos he had found in his bag of negatives.
He first took Lennon's picture in 1964 when he joked with the singer that he was earning more than him, with an income of £100 a week.
Other unseen pictures at the Leamington show include a photo of Captain Sensible after he had released Happy Talk and a picture of Status Quo with all their roadies.
Related Internet Links
The BBC is not responsible for the content of external sites.