Stratford-upon-Avon 'resilient to economic changes'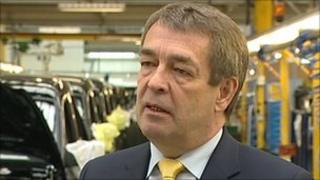 Stratford-upon-Avon is the most resilient area in the West Midlands to withstand shocks such as spending cuts, a study by Experian suggests.
The government will announce its spending review on 20 October.
The BBC commissioned research to assess how resilient each of the 324 English council regions are to economic shocks.
Warwick has a strong resilience ranking at 82 compared to Coventry at 243 but the city does well for the number of firms that have started since 2008.
With Stratford's resilience ranking of 32 nationally, the historic town is also good for the low proportion of households vulnerable to long term unemployment - coming 309th, according to the Experian research.
Coventry falls mid-table for the proportion of working-age people in the city with no qualifications but has the 12th highest number of foreign owned businesses in England.
One Coventry-based firm, London Taxi International (LTI) which makes the black cab, secured a vital multimillion-pound production deal with the Chinese in 2006.
Chief executive John Russell, who is also chief executive of West Midlands CBI, said the deal was "the only way to succeed".
"We have a fantastic, iconic product and we have that as the start point for our success," he said.
"The second part of the equation is to make sure we have a viable business in terms of our cost structure, so the challenge over the past couple of years has been to build up a partnership with a partner who can give us what we need.
"We sell a vehicle produced in relatively low volume.
"We can't afford to spend all the money on the platform and the systems.
"The only way we could succeed as a business was to get into bed with a good partner with the technical resources we needed."
Important lessons for other business in the West Midlands to remain successful are defined by two rules, he added.
"Firstly, you have a product or service that people want to buy," he said.
"Secondly you have to find the most efficient way of delivering that product or service to the market place."
Lord Digby Jones, former chief of the CBI, told BBC News that private sector workers - who have taken pay cuts to try to keep their jobs - were "fed up" with the public sector, which he said had to face up to the government cuts
BBC Coventry and Warwickshire will host a debate about the research and its findings from 0900 BST on Friday.