Giant Godiva to turn heads for 2012 Olympics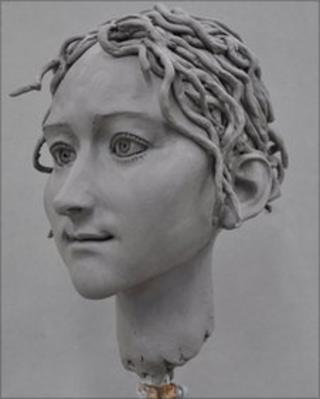 Back in the 11th Century, Lady Godiva caused heads to turn as she rode naked on horseback through Coventry.
Many centuries later, another Godiva-related spectacle will be hoping to have an equally big impact.
Hundreds of people are taking part in a £500,000 project which will see a giant puppet of the campaigner - but this time clothed - heading down to the capital to mark the London 2012 Olympics.
Plans have now gone on show to the public at the Herbert Art Gallery & Museum in Coventry, detailing how the puppet, designed to showcase British culture, will travel.
Fifty cyclists at once will power a specially-built so-called Cyclopedia carrying the 33ft (10m) high Godiva on top of a model of a horse on a seven-day journey down England's roads.
The marionette puppet will be activated by four performers with her head and eye movements being radio controlled - and she will be able to move up stairs.
The Godiva project was chosen to represent the West Midlands region at the 2012 Olympics, in a competition involving the Arts Council.
'New superhero'
Another 11 designs will represent Northern Ireland, Scotland, Wales and England's other regions.
Godiva was the wife of Leofric, Earl of Mercia, one of the most powerful noblemen in 11th Century England.
The earliest surviving source for the legend is the Chronica of Roger of Wendover, written more than a century after Godiva's death.
According to this account, Leofric became so exasperated by Godiva's endless appeals to reduce Coventry's heavy taxes that he declared he would do so, if she rode naked through the crowded marketplace.
Those behind the plans for the giant puppet said they were creating "a new superhero for the 21st Century".
Jane Hytch, director for Imagineer Productions, which is creating the puppet, said: "She stands for social justice, fairness, peace in the world.
"A lot of young people we're working with in the project [are] incredibly engaged with that notion."
The recreated Godiva will "awake" from a new "sleep" chamber in a colourful ceremony in Coventry's University Square in July 2012, which will coincide with the annual Godiva Festival.
'Extraordinary engineering'
A total of 2,000 carnival performers, more than 200 young people aged 14 to 25 and a choir with 100 members will play their part when the recreated Godiva gets a spectacular send-off from the city.
That "chamber", containing stained glass, will then go on to be a permanent landmark for Coventry.
After a tour around the city centre, the huge Godiva figure will leave on 30 July 2012 for London, calling at Rugby, Northampton, Milton Keynes, Bedford, Luton, Hatfield and Waltham Abbey.
Ms Hytch said the Cyclopedia was "a most extraordinary piece of engineering" and would be able to fall in size from 10m to 4.7m to get under the lowest bridges.
And other parts of the West Midlands will also be represented in the puppet's coat.
There will be nods to Stoke-on-Trent's pottery industry, Ironbridge in Shropshire and Leamington Spa's famous video game industry.
Imagineer Productions said it was raising funds to pay for the chamber with Arts Council England contributing £500,000 to the overall Godiva project.
'Symbol of innovation'
Ms Hytch said: "It shows what's possible when communities, artists, crafts people, engineers, architects, business people, industrialists get together to do something.
"It becomes a symbol of innovation in the West Midlands."
She said she was keen to hear feedback from people who had seen the plans.
Ms Hytch added: "If people hated it, we would consider looking at it again."
The free exhibition in Coventry on Friday and Saturday includes designs of the stained glass and Godiva's coat, a model of the chamber, sculpted models of Godiva, such as a life-sized model of her head, and films about the project.