Rugby council leader to take on chief executive's tasks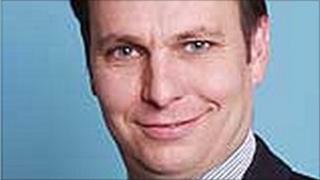 Rugby Borough Council has voted for its political leader to take on some duties of a chief executive to save money.
The council has been without a formal chief executive since Simon Warren left in March to take up an equivalent post at Wolverhampton City Council.
Since then the duties have been split between two executive directors.
Conservative councillors voted on Thursday to pay the Tory council leader Craig Humphrey £6,000 extra to take on a chief executive's ambassador role.
New role
It is the only council in the country where a political leader has taken on any chief executive's tasks, the council claimed.
Mr Humphrey said there was no conflict of interest in his extra duties because he had no extra powers and no influence over the council's statutory or internal affairs.
He is not a paid council employee and has no council line management responsibilities.
His new role was scrutinised by an independent panel report and set out by the council in a document in March which said: "The arrangements include an enhanced role for the leader in setting the strategic direction of the council, its vision and its change programme.
'What work?'
"Councillor Humphrey will also continue to act as an advocate for the council at a regional, sub-regional and local level and will be the representative voice of the council in its dealings with government, regional and sub-regional bodies and other local authorities."
Jerry Roodhouse, the leader of the council's Liberal Democrat group, said he thought the extra payment for Mr Humphrey was unjustified.
"The evidence wasn't presented to [the independent panel] to say what additional work the leader would be doing.
"I have looked at outside bodies with chief executives and I can't see what work is being progressed."
There are 11 Labour councillors, nine Liberal Democrats and 28 Conservatives on the council, which operates with a leader and cabinet model.