'Care failings' before Rugby schoolgirl died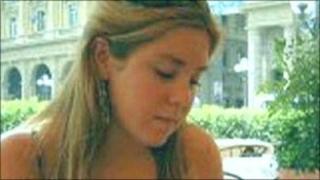 A coroner identified seven failings in care given to a teenager who died after she was "lost" in an NHS hospital.
Clementine Nicholson, 17, a pupil at Rugby School in Warwickshire, died of meningococcal septicaemia in 2009.
An inquest heard how she was "lost" at Coventry's University Hospital after a bed manager told nurses to move her to another ward.
The girl's family blamed her death on a string of failures after coroner Sean McGovern recorded a narrative verdict.
'Lack of direction'
The inquest at Coventry Coroner's Court was told how Clementine, who was known as Clemmie, was "lost" for an hour after the bed manager asked staff to move her.
The teenager, who was a boarder at school, died after communication failures saw her moved to two inappropriate wards rather than to intensive care.
The Coventry coroner ruled there had been "a lack of direction and urgency" regarding Miss Nicholson's treatment between 1310 and 1745 BST on 6 May last year.
The lack of urgency was characterised by seven failings, Mr McGovern said, including a failure to adhere to the hospital's own guidelines, a decision to take an unnecessary CT Scan, and a failure to ensure that the girl was admitted to critical care as soon as possible.
But the coroner said it was not clear whether or not the failures had contributed to the death.
In a statement, the girl's parents said: "Nothing could have prepared us for the truly shocking evidence that we have heard over the past few days.
"We would like to thank the coroner for his thorough exploration of all the circumstances and note his highly critical verdict.
"We would also hope that Clemmie's death will highlight the crucial importance of early recognition, treatment and management of meningococcal septicaemia."
Nurse controller
Earlier, the inquest heard that doctors caring for Clementine were "astonished" that she had been taken from a resuscitation unit without their consent.
Dr Nishant Patodi said the University Hospital had administered treatment promptly despite initially misdiagnosing Clementine's condition.
Both antibiotics and fluids were given to the patient as she was being treated in a resuscitation unit.
But Clementine was later transferred to a clinical decisions unit, as well as another ward, and was only admitted to intensive care after a junior doctor noticed she was desperately ill and "effectively moribund".
Dr Mair Edmunds, associate director for clinical performance at the hospital, expressed her regret that Clementine had been moved by an electronic bed management system.
Dr Edmunds told the coroner that the hospital now had a nurse controller to oversee such moves, and that more robust procedures were now in place to ensure patients were well enough to be transferred.
She said: "Clearly, on this occasion there was a break-down in communication between the nursing team and the medical team."