Breast screening extended in Coventry and Warwickshire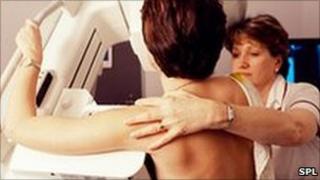 More women are to be offered breast cancer screening in Coventry and Warwickshire.
Hospitals in the areas will screen women aged from 47 to 73 every three years after a successful pilot scheme, George Eliot Hospital NHS Trust said.
Previously, it had offered the screening to women aged 50 to 70, in line with the national programme.
Screening is to be gradually extended to cover the wider age range across the country from 2012.
Coventry and Warwickshire was among six areas which took part in the pilot.
Better equipment
Mr Ram Nangalia, consultant breast surgeon at George Eliot Hospital, said: "The pilot scheme proved very successful and we're really pleased to be able to offer this service on permanent basis to women in the local area.
"As with many forms of cancer, diagnosis at an early stage is vital in ensuring the highest chance of making a full recovery."
The change means women will receive two extra screenings in their lifetime, making nine in total.
The expansion of the service follows investment in art digital mammography equipment in the region, which allows for better imaging and improved detection of abnormalities, the trust added.
In December 2007, the Department of Health announced the NHS Breast Screening Programme would be gradually extended to cover women between the ages of 47 and 73 from 2012.