Injunction extended at Barnacle traveller site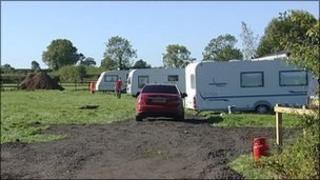 Travellers at a field in Warwickshire have been told they cannot develop the site further.
The travellers moved on to private land in Barnacle, near Coventry, on 24 September and began to lay down gravel.
Rugby Borough Council said a temporary injunction to "prevent further unauthorised development" at the site had been extended until 17 December.
The council said by that date it may have had time to consider a planning application submitted for the site.
The hearing took place at the Royal Courts of Justice on Wednesday.
"The further adjournment had been granted on the request of the developers with directions for parties to file further evidence," a council spokeswoman said.