Luxury car maker Spyker 'committed' to Coventry plant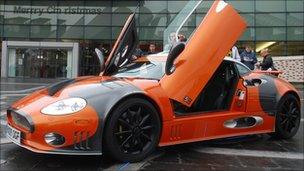 Luxury sports car production will still go ahead in Coventry, despite more than six months of delays, a Dutch car firm has said.
Spyker said in February that it planned to relocate its assembly line within weeks from the Netherlands to Coventry, creating up to 45 new jobs.
It said the 20,000 sq ft plant at CPP Manufacturing in Whitley would help it raise production levels and cut costs.
It said "unforeseen" events had delayed plans but it was committed to Coventry.
A CPP spokesman said: "CPP continues to work closely with Spyker and we are now ramping up production of the C8 Aileron luxury supercar, every one of which will be made here in Coventry.
'Extraordinary developments'
"The vast majority of the tooling, equipment and parts are now in place at CPP.
"The arrival of Spyker production in Coventry remains an exciting long-term investment in the world-class engineering and production sectors in the city."
Wicher Kist, chief operations officer at Spyker Cars, said: "There have been some unforeseen, extraordinary developments at Spyker over the last nine months which have impacted on our ability to progress as swiftly as we had originally planned.
"However, I can't stress strongly enough that everyone involved in this project, our colleagues at CPP, the Spyker team here in the UK and in The Netherlands, are absolutely committed to ramping up production of the Spyker C8 Aileron in Coventry as quickly as possible."
The firm refused to comment on what the "extraordinary developments" were.
The Whitley plant aims to produce five Spyker Aileron supercars per week.
Related Internet Links
The BBC is not responsible for the content of external sites.