Nine arrests in anti-drugs raids in Coventry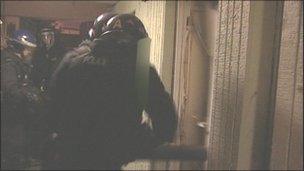 Nine people have been arrested during police raids in Coventry.
West Midlands Police organised early-morning raids as part of an operation against drug-dealing in the city.
A spokesman said the operation had taken months to plan and had been prompted by concerned residents asking police to take action.
Supt Mark Robinson, who led the operation, promised anonymity to people giving information to the police.
He said: "I would stress that.. all the officers that work here in Coventry will give them that.
"The vast, vast majority of intelligence and information we have is anonymous and will always remain so.
"We use it in such a way so as to protect the informant in the first instance."
Related Internet Links
The BBC is not responsible for the content of external sites.