Spending Review: Rural communities 'are resilient'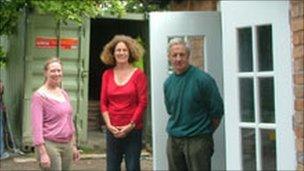 With village shops closing at a rate of 400 per year BBC News has a look at how the Spending Review may affect rural communities.
"Village shops are affected by the wider economic conditions. So, if people are struggling with money, then it will have a knock-on effect."
Mike Perry, researcher and communications manager for The Plunkett Foundation, works with communities who, when faced with losing their services, such as shops, public houses or transport, decide to pull together and re-instate them.
Two years ago, the foundation worked to help villagers in Barford, Warwickshire, (population 1,100)," open a shop and post office which they run themselves, and is so far, keeping within its budget.
In 2009, the foundation helped 39 communities open their own store and the number looks to be similar for 2010.
Before 2009, about 19 community-run stores opened every year.
The foundation itself gets a 'small proportion' of its money from the government, with the rest coming from lottery grants, community and co-operative funding.
"Community shops do not get government funding although they may get a proportion of funding from local authorities.
"That funding could be threatened if local authority funding is cut," Mr Perry said.
"But village shops are incredibly resilient businesses. They always find a way to open."
Faced with running their own store, villagers put a lot of time and effort into making sure they stay open.
In Barford, fundraising plus grants over two or three years raised £220,000 and villagers also paid £20 each to have a share in the shop, built on the village green, next to the village hall.
"Opening their own store does seem to unlock an energy and enthusiasm in the community that other sites do not," Mr Perry said.
"It's now seen as a viable option for the problem of closing stores. It is a way of tackling it."
Barford villager Rod Scott is the postmaster and a shop volunteer who said he was worried about government plans to sell up to 90% of the Royal Mail and mutualism the Post Office.
"We are only open three afternoons a week - so any changes may well affect us.
"I think the Post Office gets a good deal from us. It gets to call us a branch and we don't cost it much," he said.
Mr Perry cited three things needed for communities to open their own stores - the belief they can take on the challenge, access to finance such as grants and loans and access to business support.
"As difficult times progress, communities are taking on more challenges, such as running their own pubs and owning their own broadband.
"Life in the rural community can be tough with village shops and pubs closing and transport being withdrawn.
"With money in short supply they (communities) need to do things themselves.
"The Spending Review will impact on everyone so we need to make sure the community schemes will be resilient," Mr Perry said.
Related Internet Links
The BBC is not responsible for the content of external sites.