Fatal Atherstone fire inquiry 'nearing end'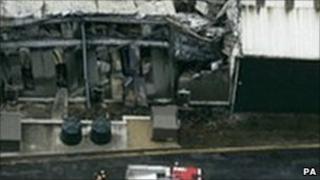 An investigation into a fire in which four firefighters lost their lives is close to conclusion, police said.
Twelve people have been arrested this year after a warehouse fire at Atherstone-on-Stour, Warwickshire, in November 2007.
All 12 were due to answer bail in October, but this has been extended to early next year.
The investigation has cost just over £4.5m to date, the Warwickshire force said.
'So long'
It added the force had received a Home Office Special Grant of £3.45m.
The force said a second bid had been submitted to the Home Office to gain the rest of the cash.
The bodies of Ashley Stephens, 20, John Averis, 27, and Darren Yates-Badley, 24, were found in the charred remains of the factory in Atherstone-on-Stour.
Ian Reid, 44, died in hospital after the fire.
'All the time'
Ten of the 12 people have been arrested on suspicion of gross negligence manslaughter and two were held on suspicion of misconduct in a public office.
All have been questioned about offences under the Health and Safety at Work Act 1974.
Det Supt Ken Lawrence, who is leading the investigation, said: "I am conscious that, as we approach the third anniversary of the fire, people are asking why it is taking so long.
"This is the largest and most complex investigation ever undertaken by Warwickshire Police.
"I have always said that we would give it all the time it needed in order to establish the truth and establish exactly what happened.
"Twelve people have been arrested this year and have just had their bail extended in order for the CPS to consider all the evidence."
Police said it was a joint investigation with the Health and Safety Executive.