Students end overnight sit-in at Warwick University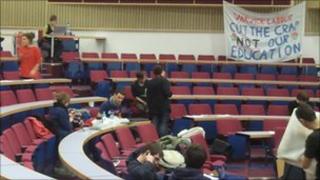 About 15 students have ended their overnight occupation of a lecture hall at the University of Warwick in protest at higher tuition fees.
Student Jehanzeb Khan said they wanted the university to condemn plans to raise tuition fees up to £9,000 a year.
About 70 students moved into the lecture theatre on Wednesday as protests took place across the UK.
The university said it sympathised with students but was facing 80% cuts to its teaching funding.
The students, who also called for the university to reveal what cuts were planned, ended their sit-in protest about 0900 GMT.
Minor scuffles between students and security guards took place outside and inside the arts centre on Wednesday.
West Midlands Police said the rally had been peaceful.
In a list of demands to the university, the protesters said they had wanted it to condemn the government's plans for the restructuring of higher education, the raising of tuition fees and the removal of public financial support for arts and social sciences.
'Fantastic work'
They had also called on the vice chancellor, Professor Nigel Thrift, to discuss these issues with the protesters.
A spokeswoman for Warwick University said: "We are sympathetic to students over their concerns around the rise in tuition fees.
"But the university is facing 80% cuts to its teaching funding and so far this raise is the only thing presented to us to counter the impact of the cuts to this budget."
She said the university was aware of the students' demands and had been in talks with them, adding no decisions had been made regarding any cuts at the university.
"At the end of the day, we both want the fantastic work and education that the university provides and the opportunities they result in to continue and thrive," she added.