Coventry's Bishop Street sorting office 'retail-led'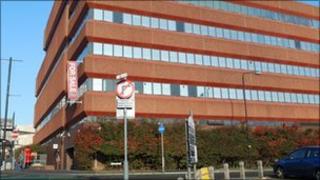 Bishop Street sorting office in Coventry is to be transformed into shops, according to its new owners.
The former Royal Mail building, which closed in November, has been bought by developers Barberry Group.
Company director Henry Bellfield said the premises had up to £70m of developmental value which would be retail-led.
He said the bottom floors would be used for retail purposes while the upper floors could be accommodation.
"We are working on some very exciting plans to redevelop the site and some of the adjoining sites," he said.
"The building will not really be recognisable when we have completed our scheme," he said.
'Appeal to shoppers'
The sorting office closed despite months of protests at the plans which included transferring deliveries to a new office in Northampton.
The developers have also acquired an adjoining site, making the whole area about 500,000sqm (50 hectares).
They want to see changes to the ring road around the city centre to improve links with Bishop Street.
Martin Yardley, director of city services and development at Coventry City Council, said it was a much-needed boost for the city.
It is not yet known what retailers will use the new development but Mr Yardley said it needed to really appeal to shoppers.
"I think we really need something that would draw people that would normally shop in the city and then the benefits of people coming in would spill into the rest of the city," he said.
"It's big anchor units, it's big units... so it's either going to be a big supermarket or big retail store which is what I'd like to see."