Coventry fatal crash pilots 'did not see each other'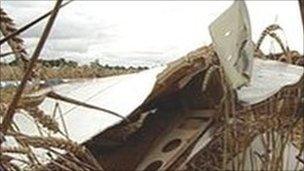 Two pilots in a mid-air collision which killed five people did not see each other or had no time to take avoiding action, a report has found.
A Cessna 402 aircraft and a solo-piloted Rand KR2 collided near Coventry Airport on 17 August, 2008.
The Air Accidents Investigations Branch (AAIB) said that a contributory factor was that "insufficient or inaccurate information" was given to the pilots.
An eyewitness said the Cessna's left wing passed through the other craft.
The AAIB said by the time the risk of a collision between the Cessna and the Rand KR2 was identified it was "too late to devise an effective method of resolving the situation".
Brian Normington, 70, of Leamington Spa, Warwickshire, was flying the Rand KR2 light aircraft, which he built himself.
Mr Normington was killed as were the two pilots in the Cessna; Sybille Gautrey, 33, from Towcester, Northamptonshire, and Sophie Hastings from Swadlincote, Derbyshire.
James Beagley, 34, from High Wycombe, Buckinghamshire, and Harvey Antrobus, 28, from Fillongley, Warwickshire, who were also in the Cessna, were also killed.
The four on board the Cessna all worked for survey company Reconnaissance Ventures Ltd, based at the airport.
Their bodies were recovered from Brandon Wood, a day after Mr Normington's body was found near Coombe Abbey, Warwickshire.
The AAIB report said the flight-landing sequence plan prepared for the flights by the aerodrome controller (ADC) at Coventry Airport was based on an "incomplete understanding" of the nature of the Cessna's flight.
It said with "a clearer understanding of the nature" of the Cessna flight, he might have developed a different plan.
However, in the event, the plan he devised was "unlikely to have been successful," it said.
Related Internet Links
The BBC is not responsible for the content of external sites.