Inquiry into body find after Warton fire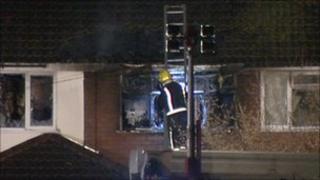 Investigations are continuing after the body of a 52-year-old woman was found inside a house damaged by fire.
About 25 firefighters were called to the semi-detached house in Little Warton Road, Warton, Warwickshire, on Sunday.
"The woman's death is being treated as unexplained but early indications are that this was a tragic accident," a police spokeswoman said.
A 17-year-old boy and a 54-year-old man managed to escape from the fire.
The man and teenager were treated for minor abrasions and smoke inhalation by the West Midlands Ambulance Service.
Warwickshire Police said emergency crews were alerted to the fire at 1425 GMT.
The ambulance service said it took several hours for fire crews to recover the woman's body because of damage to the house.
The woman was initially reported to be unaccounted for.
She was confirmed dead at the scene at 2130 GMT.
Warwickshire Fire and Rescue Service said the fire had spread to neighbouring homes.
A service spokeswoman said a specialist team was brought in to stabilise the building.
She added: "This incident is subject to further investigations which will be carried out over the next few days."
West Midlands Ambulance Service said a rapid response vehicle remained on scene during the incident providing medical cover for the firefighters tackling the blaze.