Warning over real Christmas trees after fatal fire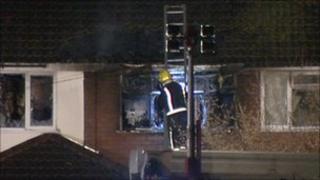 A dried-out Christmas tree is thought to have accelerated a house fire in Warwickshire, blocking the escape route of one of its occupants who died.
Faulty tree lights are thought to have started the fire in Little Warton Road, Warton, in which Frances Austin, 52, died on Sunday afternoon.
The fire spread quickly because the tree had dried out and served as ideal fuel, the fire service said.
The service urged people to plan an escape route from their home.
'Increased intensity'
Ms Austen's partner, Terry Batham, and their son, Aaron, were able to escape from the fire before the emergency services arrived.
Andy Bates, of Warwickshire Fire and Rescue Service, said: "Although the investigation is on-going, it is believed that the fire started in the living room.
"The most probable cause of the fire is thought to be an electrical fault associated with the Christmas tree lights.
"However, the intensity of the fire was increased because the family had a real Christmas tree in their home which unfortunately had dried out over the Christmas period. This accelerated the fire which gave the family less time to escape.
"Although a dry tree is not itself an ignition source if it catches fire it will rapidly burst into flames totally engulfing your living room within seconds."