Thousands of Royal Shakespeare Company costumes on sale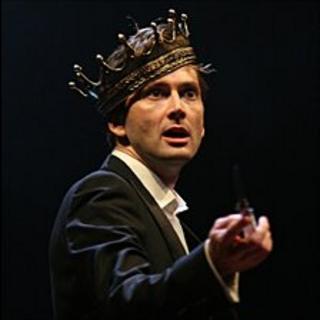 The Royal Shakespeare Company (RSC) is selling thousands of costumes worn by actors including Sir Ian McKellen and David Tennant.
Items for sale at its rehearsal rooms in Stratford-upon-Avon include Egyptian head-dresses, a variety of military uniforms, shoes and hats.
The RSC said it needed more space and better storage conditions.
The garments on sale in February have been used in productions spanning several decades.
Soldiers' tabards and chain-mail from the RSC's 1984 production of Henry V with Kenneth Branagh, a light blue 18th Century waistcoat worn by Charles Dance in As You Like It and numerous items worn by David Tennant are among the items on sale.
Alistair McArthur, RSC Head of Costume, said: "We have items for sale from every area of the wardrobe, including costumes that first made their debut on stage back in the 1970s and 80s.
"The sale will include costumes designed by top theatre designers like Deirdre Clancy and our own Olivier Award winning Tom Piper.
"With many items starting at just £3, we hope that people will take the opportunity to come along and purchase a piece of theatre history."
The sale is due to take place on 12 Feburary.