Leamington's Royal Spa Centre theatre saved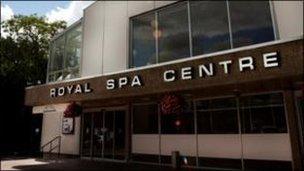 A Warwickshire theatre has been saved after being recommended for closure by a council.
Warwick District Council concluded in 2009 it was not getting value for money from the facility.
Theatre manager Antony Flint said in January 2010 he was given two years to turn the situation around - and ticket sales have since risen by 17%.
The authority has agreed to continue its £300,000 annual subsidy, as long as larger audiences are maintained.
A cinema was changed into a proper studio theatre as part of a refurbishment taking place last year, so the facility now has two spaces totalling about 960 seats.
Mr Flint added: "It's great the council has seen what we've [been] doing and put its backing behind it.
"We've come an awful lot further than many had expected in the last year."
Mr Flint said the theatre now had a "much wider range of work".
He added: "In the studio we've got the up-and-coming stand ups, we've got small fringe theatre and we've got live broadcasts from around the world on to the screen.
"The main stage is a much more populist kind of programme with the likes of Ken Dodd and Al Murray and the big opera companies."
Related Internet Links
The BBC is not responsible for the content of external sites.