Coventry clock art creator 'not consulted'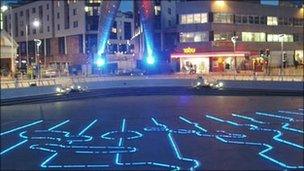 A woman who designed a £5.5m piece of artwork in Coventry city centre says she has not been consulted over proposals to remove it.
The council said it wanted to remove the Time Zone Clock in Millennium Place because it would be a safety hazard for big crowds when a large screen goes up.
Its French creator, Francoise Schein, said she felt "extremely hurt".
The authority said it would be consulting the artist about its plans but wanted local feedback first.
The artwork has small bumps coming out of the ground, and council officials fear someone may trip on it.
The creator described plans to remove the design, which was installed in 2003, as a "wicked destruction" and said the first she heard about the proposals was when the BBC contacted her.
She said: "I feel extremely hurt and betrayed in a way because they haven't called me.
"I think the first people who should know about it shouldn't be you, but me."
A council spokesman said: "We are at very early stage in this and have consulted local people, who hold the most important views in all this.
"They have told us overwhelmingly that they want us to sort out the clock so they have a more usable space to enjoy.
"We will also be consulting other partners including the artist and the Millennium Commission; however we wanted to get a clear steer from local people first."
Related Internet Links
The BBC is not responsible for the content of external sites.