Coventry City councillors approve budget cuts of £39m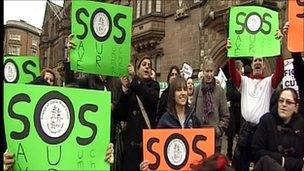 Coventry City councillors have approved plans to cut £39m from its services and shed hundreds of jobs.
At a council meeting on Tuesday next year's budget was set.
The controlling Labour group described it as the "toughest" budget the city has faced as it announced plans to cut 500 jobs in the coming year.
The meeting attracted protests from council workers and residents who use the council's services including parents of disabled children.
The parents were protesting over an after school club which is due to be cut.
Deputy leader Councillor George Duggins said: "We're facing unprecedented cuts to public services, and councils like Coventry have to tackle the massive challenge of continuing to deliver good services to local people with far fewer resources."
But he added the council was in a "good position" compared to others because it had taken early action.
The council had earlier said it was facing an overall reduction of £18.7m to its grant funding from the government.
This is in addition to another £20m which will go following cuts to specific grants.
These specific grants include a scheme to provide short breaks for disabled children, the Connexions Service and a £2m cut from education services.
Related Internet Links
The BBC is not responsible for the content of external sites.