Unison condemns Warwickshire County Council cuts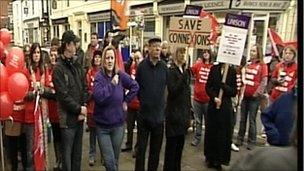 A local government union has accused Warwickshire County Council of using budget cuts as an excuse to stop doing services they are not bound to by law.
On Tuesday the authority confirmed cuts of £33m and the loss of around 1,800 jobs including hundreds of youth service jobs.
Roger McKenzie from Unison said the council was going too far.
But the council said it was a question of prioritising what it must do with what it would like to do.
County council leader Alan Farnell said: "I don't blame them at all, the young people and older people who have protested to us to try and get us to change our minds."
But he added there was a limit to what they could do as money needed to be saved.
But Mr McKenzie said: "They don't want to deliver public services any more.
"What they want to do is to be commissioners of services.
"They want to be contract managers and get private sector companies to come in and deliver those services."
About 100 people gathered outside Shire Hall in Warwick on Tuesday to protest against the cuts while 13,000 signed a petition objecting to the youth service cuts.
The Conservative-led council also agreed to cut £8m from adult social services spending.
The council's budget for 2009/10 was £784.4m. In November, the council predicted its expenditure for 2010/2011 would be £825.2m.
Related Internet Links
The BBC is not responsible for the content of external sites.