Warwickshire Police officers must retire after 30 years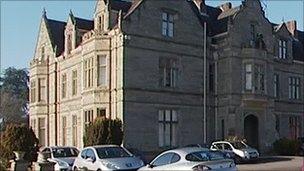 Warwickshire Police has approved plans to force officers who have completed more than 30 years' service to retire.
In January, the police authority authorised the use of Regulation A19 but delegated the decision about implementing it to the chief constable.
The force must save nearly £23m over four years and is also planning to sell its Leek Wootton headquarters.
About 35 officers will reach 30 years' service in the next year, the force said.
Last month, the force said up to 450 jobs could go as it looks at ways to make savings.
It is also looking at forming a "strategic alliance" with West Mercia Police, which also faces making a £34m budget cut over the next four years and losing 300 jobs by 2013.
'Take personal responsibility'
Both forces, which already share a number of services with others forces including police air support and counter terrorism work, have said it is not a merger.
Once Warwickshire Police is operating within budget, staff could no longer be forced to retire after 30 years, a spokesman said.
Chief Constable Keith Bristow said: "We are going to struggle to achieve all the reductions in the size of our workforce that we need to without using all of the tools available to us, including A19.
"I deeply regret having to make this decision and take personal responsibility for doing so.
"I recognise that this action affects people who have given 30 years' of dedicated public service, who have been brave and responded to all the challenges faced by all police officers during their service, only then to be asked to retire.
"Use of A19 is not something we wish to do but we must operate with a smaller workforce, both officers and staff, in the future and I am sorry that we have to take this action."
Related Internet Links
The BBC is not responsible for the content of external sites.