Dr Raj Mattu sacked after Coventry hospital suspension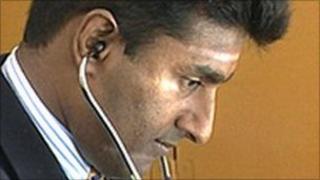 A heart specialist has been sacked nine years after he was first suspended by the hospital where he worked.
Dr Raj Mattu blew the whistle over two patients dying in overcrowded bays at University Hospitals, Coventry and Warwickshire in 2001.
He was later suspended for bullying a junior doctor in February 2002.
The case has cost millions of pounds to the tax payer. The trust said Dr Mattu, who has not commented on his sacking, is appealing.
In a statement the trust confirmed that it had terminated Dr Mattu's employment on the grounds of his conduct.
'Poor health'
The British Medical Association said in a letter to potential witnesses in his appeal that he was sacked for refusing to accept a demotion, talking to the press and appearing at functions while on long term sick leave where he knew trust managers were present.
Dr Mattu was on sick leave when his employment was terminated at a disciplinary hearing, his BMA representative Ian McIvett said.
He said the trust's investigation was "completely one-sided and flawed" and the proceedings had caused further damage to Dr Mattu's health.
University Hospitals Coventry and Warwickshire NHS Trust said it tried to reschedule his disciplinary hearing seven times.
'Overcrowded bays'
It added: "However, these attempts proved unsuccessful."
Dr Mattu first blew the whistle over the patients dying in overcrowded bays in September 2001.
The then chief executive, David Loughton, denied that any deaths were down to overcrowding but only only patients who were fit to be discharged were put in the overcrowded bay.
Dr Mattu was then suspended several months later over bullying allegations.
A full disciplinary inquiry was held in 2005 and the inquiry recommended reinstatement with a written warning for six months.
In 2006, Dr Mattu failed to win an injunction against possible dismissal in the High Court.
He was reinstated in July 2007 but was told he could not work until he had retrained, although he never completed this.
In 2009 the General Medical Council (GMC) cleared him of bullying allegations.
Dr Mattu raised a grievance against the trust in late 2009 about the terms of his retraining.
The trust later brought a new disciplinary process and he was dismissed following a hearing on 30 November last year.