Modec electric car maker goes into administration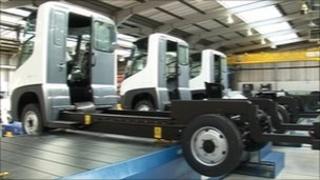 An electric van maker in Coventry has gone into administration making more than a third of its staff redundant.
Modec in Binley secured a £23m grant from the US government in 2009 to jointly make electric vans for the American markets with US firm Navistar.
Founder Lord Borwick said the deal had not produced as many orders as he expected and only 400 vehicles had been made since its launch in 2007.
Zolfo Cooper, the administrator, made 25 out of 63 staff redundant on Friday.
Lord Borwick said he had expected the US Navistar deal to produce thousands of orders but that had not materialised, due to the difficult economic climate.
He said nine vehicles were sold to the US markets in 2010 when Modec had hoped to sell up to 400 vehicles overseas.
Lord Borwick said he hoped the firm could still be sold as a going concern.