Coventry's Foleshill Road: U2, asylum seekers and more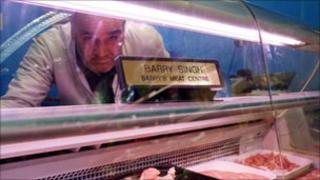 The Foleshill Road, heading north from Coventry City Centre, has been a hub of industry, entrepreneurship and diversity for generations.
BBC Coventry & Warwickshire has been gathering stories from this diverse area to broadcast in a focussed series.
On radio, television and online we are using this opportunity to uncover some of the people and events that bind the community of Foleshill.
The project brings together stunning photographs and insightful interviews.
Explore with us
We have created a portrait gallery that presents some of the characters of Foleshill Road, along with a brief description of their connections to the street. Follow this link to launch Foleshill portraits.
The diverse faiths that come together on the Foleshill Road are also explored in the following features from the Rev James Canning and a "miracle" cancer survivor.
In addition we have an audio slideshow online, bringing together photographs and personal reflections. Click to watch and listen to Foleshill: The place, the people, the stories.
Radio highlights
At the start of April, BBC Coventry & Warwickshire broadcast a special series of interviews and reports from the Foleshill Road.
Some of the highlights of this series included:
I have waited 11 years, unable to work, as an asylum seeker
U2 played in my Foleshill pub
My products save soldiers' lives
I cycled on a push bike from India to Coventry
George Eliot lived in my community centre
BBC Midlands Today also featured a number of these stories.
Follow the links below to see video from the George Eliot report and the visit soldiers made to a Foleshill factory.