Coventry cancer survivor: 'God saved me for a reason'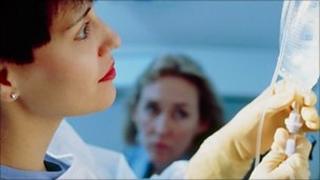 A woman from Coventry, who wishes to be known as Bobby, has been talking about her shock diagnosis of a brain tumour.
She was 16 when the cancer was confirmed and, after six months of investigations, she was given just three weeks to live.
At the time, in the late 80s, radiotherapy was in its infancy but she agreed to experimental treatment.
It was a success and 23 years later she has a "miracle" child and a strengthened faith.
No operation option
The tumour was too close to her nervous system for an operation, but one doctor suggested they try radiotherapy.
It was a very tough time, as Bobby explains: "Coming out of the radiotherapy sessions was being like a rag doll. I was just drained."
Questions of faith
The treatment did eventually work. It strengthened Bobby's sense of spirituality and left her with some critical questions: "What is it that I have still got to do or achieve that God kept me for? God kept me for a reason. What reason? I still haven't understood that fully. There was a reason, there is a reason for everything."
Already grateful for her unexpected life-saving treatment, Bobby went on to experience an even greater surprise. She explains: "The doctors said I wouldn't be able to conceive and when I told my oncologist that I was expecting, he was shocked. It was a miracle.
"We had my son and I've always believed that he's a gift that's been given to me. My life is a gift and my son is a gift and what more could I ask for? I'm just happy to be with my family and to still be alive."
Bobby's story is part of a wider BBC Coventry & Warwickshire series on the community of Foleshill running from 27 March to 3 April.