School adds dance moves to new Undertones video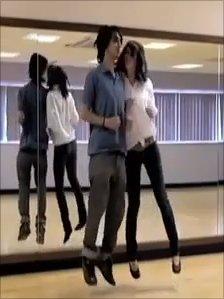 A Coventry college has become part of punk rock history by being part of The Undertones' latest music video.
As part of the band's 35th anniversary celebrations, a new video has been released for their hit, Teenage Kicks.
It includes live footage of The Undertones playing in 1978 and is preceded by two pupils from Henley College teaching pogo dance moves.
They are then joined throughout the video by fellow students doing the dance from the punk and new wave era.
Teenage Kicks, which was famously DJ John Peel's favourite song, was first released in 1978 and featured original frontman Feargal Sharkey on lead vocals.
Hugh Robinson, a media lecturer at the college, is originally from Derry, Northern Ireland (the home of The Undertones) and it was he who got the students involved with the video.
He said: "I am around the same age as The Undertones and when they were starting out I was part of a small band of loyal followers and have always kept in touch, particularly with Mickey [Michael Bradley].
"I also occasionally write and make short films and ended up in correspondence with The Undertones' manager who said that there was money available from the record company to make a video to promote a compilation album and tour by the band.
"I pitched an idea based around the pogo, which he and the band liked."
Mr Robinson was also familiar with the archive footage as he was at that very show in 1978, but his memory of it is "quite hazy".
He continued: "There were two different shows, but I remember travelling to Belfast from Derry by bus and I remember the original documentary Shellshock Rock being broadcast and us looking to see if we could see ourselves.
"I just remember it as being pretty chaotic with members of the audience climbing on stage.
"I remember once pulling the sleeve off someone's jacket during a pogoing session."
The video, which was filmed in and around the college, was also co-edited by Mr Robinson and he even voices the instructions on how to do the dance moves as Dr Robinson's Guide to Modern Dance Crazes.
Related Internet Links
The BBC is not responsible for the content of external sites.