Fatal crash closes of M6 motorway in Midlands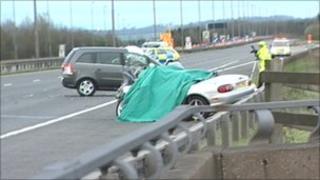 A woman died and five men were injured in a crash which closed the M6 near the border of Warwickshire and Leicestershire.
The woman was a car driver and four of the men, in their 30s, were in a people carrier. The crash, between junction one and the M1, also involved a van.
The M6 is closed southbound between junction two, for Coventry, and the M1.
It is shut northbound between the M1 and junction one. The motorway is expected to reopen at 2200 BST.
The ambulance service was called to the southbound carriageway at shortly after 1540 BST on Tuesday.
Air ambulances
The woman was pronounced dead at the scene.
Four men in the people carrier had serious injuries, an ambulance service spokesman said.
The two most seriously hurt were flown to University Hospital Coventry and Warwickshire.
One had a chest injury and the other sustained pelvic and facial injuries.
The other two men were ferried by road to the same hospital. One had a collarbone injury and the other had chest and pelvic injuries.
The driver of the van, which ended up on its side, was assessed at the scene and found to have minor injuries and refused the offer of hospital treatment.
Two air ambulances and five land ambulances, four from the East Midlands and one from the West Midlands, were deployed.