Remembering Coventry's April 1941 blitz 70 years on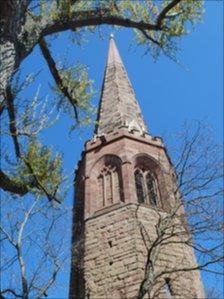 April 2011 marks the 70th anniversary of a series of bombing raids that shook Coventry just a few months after the infamous night of 14 November 1940.
It might be shadowed by the night that destroyed Coventry Cathedral and other landmarks, but April 1941 holds painful memories for many Coventry citizens.
On the nights of 8, 9, 10 and 11 April the city was pounded by heavy raids.
Buildings including Christ Church - whose spire is one of Coventry's "famous three" - were badly damaged.
The spires of St Michael's - the old cathedral - and Holy Trinity Church instantly come to mind, but the third spire can often be forgotten.
When Christ Church on New Union Street was hit during the April blitz the original medieval tower and spire were left standing, but the rest of the church and its walls were badly damaged.
It was eventually demolished in 1950.
The tower was later restored and is now a cafe-bar called Inspire, a popular live music venue.
On the side of the tower is a plaque which was unveiled in 1974 by the Lord Mayor of Dresden, Gerhard Schill.
The plaque names the area as Dresden Place and is a symbol of the friendship between the two cities.
Dresden was also extensively bombed during World War II.
A new Christ Church - which had also been rebuilt in the early 19th Century after the population of the city began to grow - opened in Cheylesmore in the 1950s.
Other buildings hit during the April raids include King Henry VIII School on Warwick Road, Coventry and Warwickshire Hospital and St Mary's Guildhall.
Gordon Tucker was six years old in April 1941 and was evacuated to Wilnecote in Tamworth after the first big raid.
He remembers watching Coventry in flames and thinking about the family he left behind: "This April blitz was really something horrendous... It was an absolute fireball."
Related Internet Links
The BBC is not responsible for the content of external sites.